Tribhawan Kaul
Biography of Tribhawan Kaul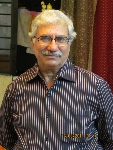 I was born in a Kashmiri Pandit/hindu family in Srinagar, capital of Jammu & Kashmir in India on 1stJanuary,1946. I spent the early phase of my childhood in Srinagar till the age of seven and then migrated to Delhi with my parents. However visiting my native place often to be with its breathtaking natural scenic beauty, its rivers, temples, mosques etc. sustained my love towards my birthplace. I befriended Jhelum, the river, for learning to flow constantly without stagnating, I prayed in the lap of temples and visited mosques believing in two different faiths enriching brotherhood, peace and love. I remained in the company of flora and fauna which always surprised me witnessing the wonderful creation of that one entity, whom we call Ishwar, Allaha, or the God.

in Delhi, I was exposed to kavi sammelans/ mushairas(both poetic meets) held at various places and sufi singing by Qawwaals at Darghah Nizammudin Aullia. This exposure to varied thoughts of different personalities and cultural ethos remained ingrained in my conscience. I started writing few poetic verses and then mixing them with simple one-act plays, also written by myself.At the age of 13, I got my first book ; Nanhe Muno Ke Rupak published.

I joined the Indian Air Force in the logistic cadre(1967-2005) , and the entire period of service till retirement was a sort of hibernation of my talent barring few occasions every year when I could showcase my talent and win accolades and prizes. Writing poems and expressing my feelings in verses had always been my hobby, but became my passion after retirement from the post of CGO(EQ) /Assistant Director in December2005. Two anthologies of my hindi poems titled as 'Sab Rang' and 'Mann Ki Tarang' were published in the years 2010 and 2012 respectively. I also started writing English poetry which was appreciated on various poetic websites by both Indian and international poets. Some of my poems have been/were selected for publication in different/ books, journals and anthologies. An anthology of my poems titled ' Children of Lost God' has been published in March,2013.

I have always maintained that writing makes one a complete human being, as it brings out the true person behind the physical facade, besides having a calming effect on the writer.

I belong to India and am proud to be an Indian.

Tribhawan Kaul's Works:

Nane Muno Ke Rupak in hindi for children.(1959-60)
Anthology of hindi poems SAB-RANG.(2010)
'Mann Ki Tarang' another anthology of hindi poems (2012)
Children of Lost Gods (2013) an anthology of my english poems.
New Poems
Benevolent
Mother nature
provides in abundance
for her children to feed
unabashedly they perform C-sections
to satiate their greed.

And she gets killed every day, every minute
like a golden goose
her sons and daughters make merry