Tirupathi Chandrupatla
Biography of Tirupathi Chandrupatla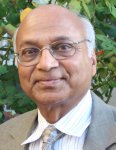 My journey into writing poetry has brought me in touch with many magnificent people. I express my gratitude to all readers and my poet friends. I am deeply moved by the comments received for my poems and about me as a poet. I will keep working with renewed enthusiasm.

I write poetry in Telugu and English languages. I published a book of Telugu poems titled MANOGATHAM (Introspection) .

I introduced the 2Q Poem format first in Telugu language. Basically a 2Q poem is two questions with a simple structure. Over a hundred of these 2Q poems in Telugu were published by Andhra Prabha Daily newspaper (2008-2009) in Hyderabad, India in their Sunday supplement, each with a sketch drawn by their artist.2Q poems in English have been introduced through PoemHunter.2Q poems have been in the literature for a long time in various languages. Current format is an attempt to provide a formal structure and calling them 2Qs. These poems are indicated by '2Q' at the end of the poem title.
New Poems
Enchanting Ensemble
A group of nineteen
Boys and girls
All studying in
The sixth grade
Performed their
Spring concert
Their dedicated teacher
Directed the band.