Tirupathi Chandrupatla
Biography of Tirupathi Chandrupatla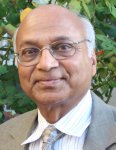 This journey into writing poetry has brought me in touch many magnificent people. I express my gratitude to all readers and my poet friends. I am deeply moved by the many comments received for my poems and about me as a poet. I will keep working with the same enthusiasm.

I write poetry in Telugu and English languages. I published a book of Telugu poems titled MANOGATHAM (Introspection) .

I introduced the 2Q Poem format first in Telugu language. Basically a 2Q poem is two questions with a simple structure. Over a hundred of these 2Q poems in Telugu were published by Andhra Prabha Daily newspaper (2008-2009) in Hyderabad, India in their Sunday supplement, each with a sketch drawn by their artist.2Q poems in English have been introduced through PoemHunter.2Q poems have been in the literature for a long time in various languages. Current format is an attempt to provide a formal structure and calling them 2Qs. These poems are indicated by '2Q' at the end of the poem title.
New Poems
Bridge
Leaves rise
Leaves fall
Boats float
Cars cross
Old bridge
Comes to life…

Open's close
Close's open
There's no end
For end's beginning
Life now gets
An all new meaning.

Connects for ever
Here to there
Far's near
Let's explore
Open eye and see
Both land and sea.