Thomas Gray
Biography of Thomas Gray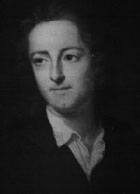 Gray's father was a scrivener while his mother and aunt kept a milliner's shop. He led a quiet, studious life in the main, training in law after his degree at Cambridge and then becoming a history done at Peterhouse.

Gray formed a friendship with Walpole which was broken off as a result of a disagreement during a "Grand Tour of Europe" (1734-39), though they were eventually reconciled in 1745. This friendship was important to Gray's literary career and Walpole later published The Progress of Poetry and The Bard, an impassioned summary of English history, on his Strawberry Hill Press. Gray sent his Ode on the Spring to an Etonian friend, Richard West, who died shortly afterwards, prompting the Sonnet on the Death of West. Gray was immensely popular and helped to create a new taste in poetry; fertile ground for the romantic poets to follow him. In 1757 at the death of the Poet

Laureate Cibber, the post was offered to Gray, but he refused it.
This page is based on the copyrighted Wikipedia Thomas Gray; it is used under the Creative Commons Attribution-ShareAlike 3.0 Unported License. You may redistribute it, verbatim or modified, providing that you comply with the terms of the CC-BY-SA.
Epitaph On A Child
Here, freed from pain, secure from misery, lies
A child, the darling of his parents' eyes:
A gentler lamb n'er sported on the plain,
A fairer flower will never bloom again:
Few were the days allotted to his breath;
Now let him sleep in peace his night of death.