Theocritus
Biography of Theocritus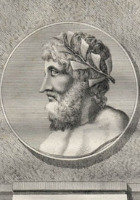 Theocritus was an Hellenistic Greek poet. The history of the pastoral begins with him, and in him the form seems to have reached its height.

Theocritus was probably born in an early decade of the third century,
or, according to Couat, about 315 B.C., and was a native of Syracuse,
'the greatest of Greek cities, the fairest of all cities.' So Cicero
calls it. He was the son of Praxagoras and Philinna.

Most of what is known of Theocritus comes from his Idylls. His poetic style is filled with the characters and nature which surrounded him. The existence
he loved best to contemplate, that of southern shepherds, fishermen, rural people, remains what it always has been in Sicily and in the isles of Greece. The habits and the passions of his countryfolk have not altered, the echoes of their old love-songs still sound among the pines, or by the sea-banks, where Theocritus 'watched the visionary flocks.'

Theocritus has been widely imitated by such poets as Vergil and Spenser.
This page is based on the copyrighted Wikipedia Theocritus; it is used under the Creative Commons Attribution-ShareAlike 3.0 Unported License. You may redistribute it, verbatim or modified, providing that you comply with the terms of the CC-BY-SA.
The Battle Of The Bards
COMETAS.
Goats, from a shepherd who stands here, from Lacon, keep away:
Sibyrtas owns him; and he stole my goatskin yesterday.

LACON.
Hi! lambs! avoid yon fountain. Have ye not eyes to see
Cometas, him who filched a pipe but two days back from me?

COMETAS.