Biography of Ted Kooser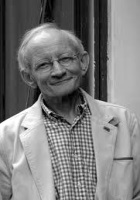 Ted Kooser is one of the nation's most highly regarded poets and served as the United States Poet Laureate Consultant in Poetry to the Library of Congress from 2004 - 2006. During his second term he won the Pulitzer Prize for his book of poems, Delights & Shadows (Copper Canyon Press, 2004). A Presidential Professor of English at the University of Nebraska-Lincoln, he is the author of twelve full-length collections of poetry. Over the years his works have appeared in many periodicals including The Atlantic Monthly, The New Yorker, Poetry, The Hudson Review, The Nation, The American Poetry Review, The Kenyon Review, Prairie Schooner, and Antioch Review. Koosers' poems are included in textbooks and anthologies used in both secondary schools and college classrooms across the country. He has received two NEA fellowships in poetry and many other national and regional awards.

In addition to poetry, Kooser has written in a variety of forms including personal essays, and literary criticism. His first book of prose, Local Wonders: Seasons in the Bohemian Alps (University of Nebraska Press, 2002), won the Nebraska Book Award for Nonfiction in 2003 and Third Place in the Barnes & Noble Discover Great New Writers Award in Nonfiction for 2002. The book was chosen as the Best Book Written by a Midwestern Writer for 2002 by Friends of American Writers. It also won the Gold Award for Autobiography in ForeWord Magazine's Book of the Year Awards.

For a number of years, Kooser owned and operated Windflower Press which specialized in the publication of contemporary poetry. Though inactive now, Windflower published a number of books as well as two literary magazines, The Salt Creek Reader (1967-1975) and The Blue Hotel (1980-1981). The Salt Creek Reader was awarded several grants of support from the National Endowment of the Arts through The Coordination Council of Literary Magazines. Kooser published several anthologies through Windflower Press. One of these, The Windflower Home Almanac of Poetry, was listed by Library Journal as one of the best books from small presses for 1980. Seventeen Danish Poets in Translation received international notice, and As Far As I Can See; Contemporary Writing of the Middle Plains is in use as a text in secondary schools and colleges across the plains region. In 1999, Kooser published Roy Scheele's Keeping the Horses as a fundraising project for the Nebraska Literary Heritage Association.

Born in Ames, Iowa, in 1939, Kooser earned a BS at Iowa State University in 1962 and an MA at the University of Nebraska in 1968. He has received several honorary doctorates. He is a former vice-president of Lincoln Benefit Life Copmpany, where he worked for many years. He lives on an acreage near the town of Garland, Nebraska, with his wife, Kathleen Rutledge, and their dogs, Alice and Howard. He also has a son, Jeff, and a granddaughter, Margaret.

Ted Kooser's Works:

Poetry:
Official Entry Blank, University of Nebraska Press, Lincoln, 1969
A Local Habitation & A Name, Solo Press, San Luis Obispo, 1974
Not Coming to be Barked At, Pentagram Press, Milwaukee, 1976
Sure Signs, University of Pittsburgh Press, 1980
One World at a Time, University of Pittsburgh Press, 1985
The Blizzard Voices, Bieler Press, St. Paul, 1986
Weather Central, University of Pittsburgh Press, 1994
Winter Morning Walks; 100 Postcards to Jim Harrison, Carnegie Mellon University Press, 2000.
Braided Creek, with Jim Harrison. Copper Canyon Press, 2003.
Delights and Shadows, Copper Canyon Press, 2004.
Flying at Night, University of Pittsburgh Press, 2005.
Valentines, University of Nebraska Press, 2007

Nonfiction:

Local Wonders; Seasons in the Bohemian Alps. University of Nebraska Press, 2002.
The Poetry Home Repair Manual. University of Nebraska Press, 2005.
Lights on a Ground of Darkness, University of Nebraska Press, forthcoming in 2009.

Chapbooks and Special Editions:

Grass County, privately printed, 1971
Twenty Poems, Best Cellar Press, Crete, NE, 1973
Shooting a Farmhouse/So This is Nebraska, Ally Press, St. Paul, 1975
Voyages to the Inland Sea, with Harley Elliott, Center for Contemporary
Poetry, LaCrosse, WI, 1976
Old Marriage and New, Cold Mountain Press, Austin, TX, 1978
Cottonwood County, with William Kloefkorn, Windflower Press, 1979
Etudes, Bits Press, Case Western Reserve University, Cleveland, 1992
A Book of Things, Lyra Press, Lincoln, 1995.
A Decade of Ted Kooser Valentines, Penumbra Press, Omaha, 1996
Awards and Honors:

Prairie Schooner Prize in Poetry, 1976 and 1978
Writing Fellowships, National Endowment for the Arts, 1976 and 1984
Society of Midland Authors Poetry Prize, 1980
Stanley Kunitz Poetry Prize, Columbia Magazine, 1984
Pushcart Prize, 1984
Governor's Art Award, 1988
Mayor's Art Award, 1989
Richard Hugo Prize, Poetry Northwest, 1994.
James Boatwright Award, Shenandoah, 2000
Nebraska Arts Council Merit Award in Poetry, 2000
Mari Sandoz Award, Nebraska Library Association, 2000
Nebraska Book Award for poetry, 2001
Barnes & Noble Discover Nonfiction Prize, third place, 2003
Friends of American Writers Prize, 2003
Honorable Mention, Society of Midland Authors nonfiction prize, 2003
First place, ForeWord Magazine autobiographical writing competition, 2003
The Best American Poetry, 2003
Nebraska Book Award for nonfiction, 2003
Society of Midland Authors Poetry Prize (with Jim Harrison, 2004)
Named United States Poet Laureate Consultant in Poetry, 2004
Honorary Doctorate, University of Nebraska, 2004
Delights & Shadows named as a "Best Book of the Year" for 2004
Reappointed U. S. Poet Laureate Consultant in Poetry. 2005
Honorary Doctorate, South Dakota State University, 2005
American Library Association Notable Book Citation for Delights & Shadows, 2005
Milton Kessler Award, State University of New York at Binghamton, 2005
The Best American Essays, 2005
Society of Midland Authors Poetry Prize, 2005
Pushcart Prize, 2005
Pulitzer Prize in Poetry, 2005
Midwest Booksellers Association Poetry Award. 2005
Sower Award, Lincoln Community Foundation, 2005
Jason Award, Children's Square, 2005
University of Nebraska Presidential Professorship 2005
Sower Award, Lincoln Community Foundation, 2005
Sower Award, Nebraska Committee on the Humanities, 2006
Sower Award, Nebraskaland Foundation, 2006
University of Nebraska Presidential Professorship 2006
Honorary Membership, Sigma Tau Delta, 2007
Distinguished Alumnus, Iowa State University, 2007
Alumni Achievement Award, University of Nebraska, 2007
Midwest Booksellers Association Poetry Award. 2007
University of Nebraska Presidential Professorship 2007
Honorary Doctorate, State University of New York at Binghamton, 2008
Midwest Booksellers Association Poetry Award. 2008
Word Sender Award, John G. Neihardt Foundation, 2008
This page is based on the copyrighted Wikipedia Ted Kooser; it is used under the Creative Commons Attribution-ShareAlike 3.0 Unported License. You may redistribute it, verbatim or modified, providing that you comply with the terms of the CC-BY-SA.
Flying at Night
Above us, stars. Beneath us, constellations.
Five billion miles away, a galaxy dies
like a snowflake falling on water. Below us,
some farmer, feeling the chill of that distant death,
snaps on his yard light, drawing his sheds and barn
back into the little system of his care.
All night, the cities, like shimmering novas,
tug with bright streets at lonely lights like his.