Ted Hughes
Ted Hughes
(1930 - 1998 / West Yorkshire / England)
Biography of Ted Hughes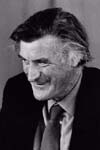 Ted Hughes is consistently described as one of the twentieth century's greatest English poets. Born August 17th, 1930 in Mytholmroyd, Yorkshire, his family moved to Mexborough when he was seven to run a newspaper and tobacco shop. He attended Mexborough grammar school, and wrote his first poems from the age of fifteen, some of which made their way into the school magazine. Before beginning English studies at Cambridge University (having won a scholarship in 1948), he spent much of his National service time reading and rereading all of Shakespeare. According to report, he could recite it all by heart. At Cambridge, he he 'spent most..time reading folklore and Yeat's poems,' and switched from English to Archaeology and Anthropology in his third year.

His first published poem appeared in 1954, the year he graduated from Cambridge. He used two pseudonyms for the early publications, Daniel Hearing and Peter Crew. From 1955 to 1956, he worked as a rose gardener, night-watchman, zoo attendant, schoolteacher, and reader for J. Arthur Rank, and planned to teach in Spain then emigrate to Australia. February 26 saw the launch of the literary magazine, the St Botolph's Review, for which Hughes was one of six co-producers. It was also the day he met Sylvia Plath; they were married in four months.

Hughe's first book of poems, Hawk in the Rain, was published in 1957 to immediate acclaim, winning the Harper publication contest. Over the next 41 years, he would write upwards of 90 books, and win numerous prizes and fellowships including the following (in that order):

Harper publication contest, Guiness Poetry Award, Guggenheim fellowship, Somerset Maughan award, city of Florence International Poetry Prize, Premio Internazionale Taormina Prize, Queen's Gold Medal for Poetry, OBE, vote for the best writing in English in the New Poetry Poll, Whitbread Book of the Year, W.H. Smith Literature award, Forward Prize for Poetry, Queen's Order of Merit, T.S. Eliot Prize for Poetry, South Bank Award for Literature, Whitbread Prize for Poetry, and the Whitbread Book of the Year again.

In 1984, he was appointed England's poet laureate.

Hughes is what some have called a nature poet. A keen countryman and hunter from a young age, he viewed writing poems as a continuation of his earlier passion. 'This is hunting and the poem is a new species of creature, a new specimen of the life outside your own.' (Poetry in the Making , 1967)

Hughes and Plath

A strong indirect source of interest in the person of Hughes (aside from his poetry) is his seven-year marriage to the well-known American Poet, Sylvia Plath. Birthday Letters is a sequence of lyrics written by Hughes in the first year of their marriage, cast as a continued conversation with Plath.

When Plath committed suicide in 1963 (they had separated in 1962), many held Hughes responsible for her death as a consequence of his adulterous relationship with Assia Wevill; recent biographies such as Elaine Feinstein's Ted Hughes: The Life of a Poet have attempted to 'set the record straight and clear the air of rancor and recrimination' (Brooke Allen, The New York Times ).

Though deeply marked by the loss, Hughes was publicly silent on the subject for more than 30 years out of his sense of responsibility to protect the couple's two young children, whose perceptions of their mother would have otherwise been impossibly spoiled by external interference. The publication of Birthday Letters has been seen as a 'retaking' of the histories that had been stolen from the family through the cracks in the armour.

Quotes

'Each image denotates another, so that the whole poem throbs' – Edward Lucie Smith on Hughes' poetry, British Poetry since 1945

'Imagine what you are writing about. See it and live it.' –Ted Hughes, Poetry in the Making

'You write interestingly only about the things that genuinely interest you. This is an infallible rule.. in writing, you have to be able to distinguish between those things about which you are merely curious –things you heard about last week or read about yesterday- and things which are a deep part of your life… So you say, 'What part of my life would I die to be separated from?' –Ted Hughes, Poetry in the Making

'It is occasionally possible, just for brief moments, to find the words that will unlock the doors of all those many mansions in the head and express something – perhaps not much, just something – of the crush of information that presses in on us from the way a crow flies over and the way a man walks and the look of a street and from what we did one day a dozen years ago. Words that will express something of the deep complexity that makes us precisely the way we are.'-Ted Hughes, Poetry in the Making
This page is based on the copyrighted Wikipedia Ted Hughes; it is used under the Creative Commons Attribution-ShareAlike 3.0 Unported License. You may redistribute it, verbatim or modified, providing that you comply with the terms of the CC-BY-SA.
Popular Poems
Lovesong
Hawk Roosting
Wind
Bride and Groom Lie Hidden for Three Day...
The Thought-Fox
Crow's Fall
Full Moon and Little Frieda
Daffodils
A Woman Unconscious
Crow's Nerve Fails
The Harvest Moon
The Warm and the Cold
The Owl
Examination at the Womb-Door
More poems of Ted Hughes »
Share your comments »
The Harvest Moon
The flame-red moon, the harvest moon,
Rolls along the hills, gently bouncing,
A vast balloon,
Till it takes off, and sinks upward
To lie on the bottom of the sky, like a gold doubloon.
The harvest moon has come,
Booming softly through heaven, like a bassoon.
And the earth replies all night, like a deep drum.