Sushil Kumar Tripathy
Sushil Kumar Tripathy
(11th November 1963 / Odisha State in INDIA)
Biography of Sushil Kumar Tripathy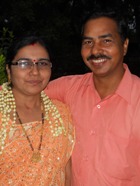 Passed High School Certificate from Baunsuni High School, Graduation in Rajendra College Bolangir, M.Sc.in Botany with Forestry Profession in
Forest Department, Govt. of Odisha in State of Odisha, INDIA.

Sushil Kumar Tripathy's Works:

Manisha (Human beings in Oriya language) , So many poems, Critics, stories published in Magazines.
What Religion Is?
What Religion is?
Is it to bind his or her thought
With some thing told by God man
Who gave sermon to them
And made pupil list long.

What Religion is?
That man does
For the way of his life