Suman Kumar Das
Biography of Suman Kumar Das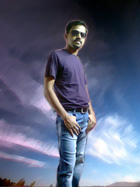 This is Mr. Suman Kumar Das from Odisha, presently residing in Kolkata, India. From the very childhood, a deep passion towards the world of poetry, has made me put a few words of my imagination & experience in white paper. Sometimes my pen paints the contemporary picture of the society & other times love and romance. My endeavuor is always to create something new which will touch the heart of the respected reader.
I am grateful to all our great poets & the team of www.poemhunter.com for providing such wonderful e-platform where I can share my unspoken feelings with the universe.

I also take this opportunity to announce that a new group (Poet & Poetry) has been found on facebook.com in view of motivating the new bloods of globalization to show their creativity in the world of poetry.

I am very glad to invite all poets and poetry lovers to join & share their poetry in any language through the below link.
https: //www.facebook.com/groups/poetandpoetry/

Hope to receive the reader's cordial viewpoints; Comments as well as Compliments.

Please feel free to catch me at:
Mob-9830962871 (India)
e-mail: suman_kingdom@yahoo.co.in
As I Wish!
Papa says, 'My son will be doctor'.
But Mom is in favour of engineer.
Uncle expects me to be sport star.
Again Aunt's desire is singer.

All give me toffee. A hope I see,
On their eyes while feeding my tummy.
But wish I to fly with bird.
And to run with hart's herd!