Biography of Sara Fielder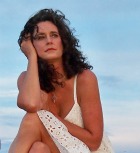 I like to make up things, that's all. Thanks for reading.
This page is based on the copyrighted Wikipedia Sara Fielder; it is used under the Creative Commons Attribution-ShareAlike 3.0 Unported License. You may redistribute it, verbatim or modified, providing that you comply with the terms of the CC-BY-SA.
New Poems
People who read Sara Fielder also read
Only a Year
A tawny brown fawn on rickety legs
Had eyes showing wonder and awe
His first day on earth, he suckled and nursed
The one that was known as his Ma

His tail twitched excitedly, and oh so delightedly
They romped and they roamed through the morn
He knew that she loved him-would teach and protect him
How happy he was to be born