Ruth Stone
Biography of Ruth Stone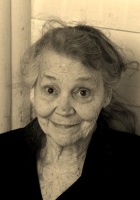 an American poet, author, and teacher.

Life and Career

In 1959, after her husband, professor Walter Stone, committed suicide, she was forced to raise three daughters alone. (As she has pointed out, her poems are "love poems, all written to a dead man" who forced her to "reside in limbo" with her daughters.) For twenty years she traveled the US, teaching creative writing at many universities, including the University of Illinois, University of Wisconsin, Indiana University, University of California Davis, Brandeis, and finally settling at State University of New York Binghamton. She died at her home in Ripton, Vermont on November 19, 2011.

Writer Elizabeth Gilbert tells a story about Stone's writing style and inspiration, which she had shared with Gilbert:

As [Stone] was growing up in rural Virginia, she would be out, working in the fields and she would feel and hear a poem coming at her from over the landscape. It was like a thunderous train of air and it would come barrelling down at her over the landscape. And when she felt it coming...cause it would shake the earth under her feet, she knew she had only one thing to do at that point. That was to, in her words, "run like hell" to the house as she would be chased by this poem.

The whole deal was that she had to get to a piece of paper fast enough so that when it thundered through her, she could collect it and grab it on the page. Other times she wouldn't be fast enough, so she would be running and running, and she wouldn't get to the house, and the poem would barrel through her and she would miss it, and it would "continue on across the landscape looking for another poet".

And then there were these times, there were moments where she would almost miss it. She is running to the house and is looking for the paper and the poem passes through her. She grabs a pencil just as it's going through her and she would reach out with her other hand and she would catch it. She would catch the poem by its tail and she would pull it backwards into her body as she was transcribing on the page. In those instances, the poem would come up on the page perfect and intact, but backwards, from the last word to the first.

Writing

Ruth Stone is the author of thirteen books of poetry. She is the recipient of many awards and honors, including the 2002 National Book Award(for her collection In the Next Galaxy), the 2002 Wallace Stevens Award, the National Book Critics Circle Award, the Eric Mathieu King Award from The Academy of American Poets, a Whiting Writers' Award (with which she bought plumbing for her house), two Guggenheim Fellowships (one of which roofed her house), the Delmore Schwartz Award, the Cerf Lifetime Achievement Award from the state of Vermont, and the Shelley Memorial Award. In July 2007, she was named poet laureate of Vermont. The voice of Ruth Stone reading her poem "Be Serious" is featured in the film USA The Movie. Paintbrush: A Journal of Poetry and Translation 27 (2000/2001) was devoted entirely to Stone's work. The Ruth Stone Poetry Prize awarded by The Vermont College of Fine Arts and their literary journal Hunger Mountain is in its sixth year. Her work is distinguished by an unusual tendency to draw imagery and language from the natural sciences: "this scientific habit of rendering looms larger, becomes not the whole of Stone's poetic, but an essential component of its complex dynamic. The thematics suggest an ongoing byplay between science and some mode of intellection which is not science [...] This is a philosophically serious writer, maybe one of the few instances of a genuinely integrated poetic sensibility we have seen in a very long time."

Ruth Stone's Works:

What Love Comes To: New and Selected Poems, Bloodaxe Books, UK edition
What Love Comes To: New and Selected Poems. Copper Canyon Press. 2008. - A finalist for the 2009 Pulitzer Prize
In the Dark. Copper Canyon Press. 2004; Copper Canyon Press, 2007
In the Next Galaxy. Copper Canyon Press. 2002
Ordinary Words, Paris Press, 2000
Simplicity, Paris Press, 1996
Who is the Widow's Muse?, Yellow Moon Press, 1991
The Solution Alembic Press, Ltd., 1989
Second Hand Coat: Poems New and Selected 1987; Yellow Moon Press, 1991
American Milk, From Here Press, 1986
Unknown Messages Nemesis Press (1973)
Cheap: New Poems and Ballads, Harcourt Brace Jovanovich, 1975
Topography and Other Poems Harcourt Brace Jovanovich, 1971
In an Iridescent Time, Harcourt, Brace, 1959
This page is based on the copyrighted Wikipedia Ruth Stone; it is used under the Creative Commons Attribution-ShareAlike 3.0 Unported License. You may redistribute it, verbatim or modified, providing that you comply with the terms of the CC-BY-SA.
Overnight Guest
Waiting for your ride in front of the house
where you spent the night,
where, as a third ear
during their endless intimate,
important, and kinky phone calls,
you pretended to rinse glassware;
you were a dog from the pound,
grateful, sniffing the upholstery.