Rohit Sapra
Rohit Sapra
(7 August 1984 / Gwalior)
Biography of Rohit Sapra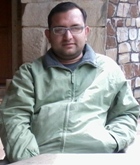 I am Rohit Sapra from Gwalior. Have completed my graduation finally. Gwalior is in the state of Madhya Pradesh, which is in India.
Hating me is the choice of this world. I will wait for the day when this world finally understands me.

Rohit Sapra's Works:

I am a struggling poet and writer so obviously I cannot afford to get my work published. Maybe, in future I do become a published author. Till then, I am simply waiting.
Know My Truth
How strange it is, as the one I have loved the most
Thinks, that I hate her most
Your sympathy I never wanted
Only wanted your love forever, in my life.
My pain is always considered as fake
That is my fate.
The pain of my heart and my love is so true
Nobody can match it.
It is good that you miss me now, my love was so true for you