Rohit Sapra
Rohit Sapra
(7 August 1984 / Gwalior)
Biography of Rohit Sapra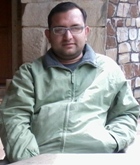 I am Rohit Sapra from Gwalior. Have completed my graduation finally. Gwalior is in the state of Madhya Pradesh, which is in India.
This world hates me because I have Bi-polar disorder and by most I am considered to be a Psycho. It is up to you to judge me in whatever way you wish to do.

Rohit Sapra's Works:

I am a struggling poet and writer so obviously I cannot afford to get my work published. Maybe, in future I do become a published author. Till then, I am simply waiting.
As To Be Divine
Pain can be cured
Depression can be dealt with
Sadness, can be handled
To cure it all through one's own existence
Through emotions as it all remains as part of life
Still, the process of living continues to be, with sentiments to go on
Through emotions as to be divine.