Rohit Sapra
Rohit Sapra
(7 August 1984 / Gwalior)
Biography of Rohit Sapra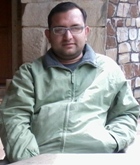 I am Rohit Sapra from Gwalior. Have completed my graduation finally. Gwalior is in the state of Madhya Pradesh, which is in India.
This world hates me because I have Bi-polar disorder and by most I am considered to be a Psycho. It is up to you to judge me in whatever way you wish to do.

Rohit Sapra's Works:

I am a struggling poet and writer so obviously I cannot afford to get my work published. Maybe, in future I do become a published author. Till then, I am simply waiting.
New Poems
My True Love
Now my desires are clear and my life will not go to waste
I am going to do something meaningful
So that I can meet my true love someday.
My true love is someone unknown
Everyone, whom I truly did love, is here no more
As I am a poor guy, who can offer nothing valuable
So, my true love does not know me and I do not know her
Where is my true love?
I wish I knew the whereabouts of my true love