Robert Penn Warren
Biography of Robert Penn Warren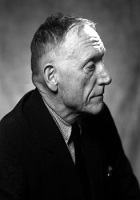 Robert Penn Warren was an American poet, novelist, and literary critic and was one of the founders of New Criticism. He was also a charter member of the Fellowship of Southern Writers. He founded the influential literary journal The Southern Review with Cleanth Brooks in 1935. He received the 1947 Pulitzer Prize for the Novel for his novel All the King's Men (1946) and the Pulitzer Prize for Poetry in 1958 and 1979. He is the only person to have won Pulitzer Prizes for both fiction and poetry.
This page is based on the copyrighted Wikipedia Robert Penn Warren; it is used under the Creative Commons Attribution-ShareAlike 3.0 Unported License. You may redistribute it, verbatim or modified, providing that you comply with the terms of the CC-BY-SA.
Mortal Limit
I saw the hawk ride updraft in the sunset over Wyoming.
It rose from coniferous darkness, past gray jags
Of mercilessness, past whiteness, into the gloaming
Of dream-spectral light above the lazy purity of snow-snags.

There--west--were the Tetons.Snow-peaks would soon be
In dark profile to break constellations.Beyond what height
Hangs now the black speck?Beyond what range will gold eyes see
New ranges rise to mark a last scrawl of light?