Biography of Robert Lowe Sherbrooke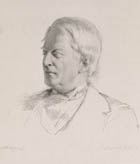 A British statesman. He emigrated (1842) to Australia and achieved recognition as a reform politician. Returning (1850) to England, he entered (1852) the House of Commons, distinguished himself as a speaker, and held subordinate offices in the ministries of Lord Aberdeen and Lord Palmerston. In 1866 he led the "cave of Adullam," the insurgent Liberals who attacked and defeated their government's reform bill. Despite this action, he served William Gladstone as chancellor of the exchequer (1868–73). In his first budgets Sherbrooke successfully reduced taxes, but he carried the Liberal policy of retrenchment too far and was transferred (1873) to the post of home secretary. He was created Viscount in 1880.
This page is based on the copyrighted Wikipedia Robert Lowe Sherbrooke; it is used under the Creative Commons Attribution-ShareAlike 3.0 Unported License. You may redistribute it, verbatim or modified, providing that you comply with the terms of the CC-BY-SA.
Song of the Squatter
The Commissioner bet me a pony—I won,
So he cut off exactly two-thirds of my run;
For he said I was making a fortune too fast,
And profit gained slower the longer would last.

He remarked, as devouring my mutton he sat,
That I suffered my sheep to grow sadly too fat;
That they wasted waste land, did prerogative brown,
And rebelliously nibbled the droits of the Crown;