Robert Hayden
Biography of Robert Hayden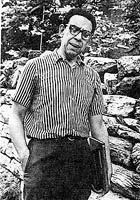 Born Asa Bundey Sheffey, Robert Hayden spent his childhood in a Detroit ghetto nicknamed 'Paradise Valley,' shuffled between his parents home and that of a foster family living next door. Childhood events would result in times of depression he would call 'my dark nights of the soul'. A nearsighted boy, he was often ostracised by his peers and was excluded from many physical pursuits. Reading -however- occupied a great deal of his time.

Hayden finished high school in 1932 and through a scholarship attended Detroit City College. Post graduation, he worked for the Federal Writer's Project, researching black history and folk culture. In 1941, he enrolled in a master's English Literature program at the University of Michigan, where he studied under W.H.Auden - who would become a guide in the development of his writing. After finishing the degree in 1942, he taught for several years at Michigan before transferring to Fisk University; in 1969, he would return to Michigan to complete his teaching career.

Hayden's work has been called 'technically gifted and conceptually expansive.' His first book of poems, Heart-Shape in the Dust was published in 1940. It was followed by an unpublished second collection, then by The Lion and the Archer (1948), and The Lion and the Archer, Figures of Time: Poems (1955). His work was internationally recognised in the 60s and A Ballad of Remembrance won the grand prize for poetry at the First World Festival of Negro Arts in Daker, 1966. Selected Poems was published in 1966, and followed by Words in the Mourning Time (1970), Night-Blooming Cereus (1972), and Angle of Ascent (1975). In 1976, he became the first black American to be appointed 'Consultant in Poetry to the Library of Congress'; this position was later called the Poet Laureate.

American Journal was published in 1978 and 1982, and Collected Poems in 1985.

Michael S. Harper refers to Hayden's work as 'a real testament to craft, to vision, to complexity and historical consciousness, and to love and transcendence.'
This page is based on the copyrighted Wikipedia Robert Hayden; it is used under the Creative Commons Attribution-ShareAlike 3.0 Unported License. You may redistribute it, verbatim or modified, providing that you comply with the terms of the CC-BY-SA.
Robert Hayden Poems
Those Winter Sundays
Sundays too my father got up early And put his clothes on in the blueback cold, then with cracked hands that ached from labor in the weekday weather made
The Whipping
The old woman across the way is whipping the boy again and shouting to the neighborhood her goodness and his wrongs.
Middle Passage
I Jesús, Estrella, Esperanza, Mercy:
The Prisoners
Steel doors – guillotine gates – of the doorless house closed massively. We were locked in with loss.
Full Moon
No longer throne of a goddess to whom we pray, no longer the bubble house of childhood's tumbling Mother Goose man,
El-Hajj Malik El-Shabazz (Malcolm X)
O masks and metamorphoses of Ahab, Native Son I
Runagate Runagate
Runs falls rises stumbles on from darkness into darkness and the darkness thicketed with shapes of terror and the hunters pursuing and the hounds pursuing and the night cold and the night long and the river
Frederick Douglass
When it is finally ours, this freedom, this liberty, this beautiful and terrible thing, needful to man as air, usable as earth; when it belongs at last to all, when it is truly instinct, brain matter, diastole, systole,
Monet's Waterlilies
Today as the news from Selma and Saigon poisons the air like fallout, I come again to see the serene, great picture that I love.
Perseus
Her sleeping head with its great gelid mass of serpents torpidly astir burned into the mirroring shield-- a scathing image dire
Soledad
(And I, I am no longer of that world) Naked, he lies in the blinded room chainsmoking, cradled by drugs, by jazz
O Daedalus, Fly Away Home
For Maia and Julie) Drifting night in the Georgia pines, coonskin drum and jubilee banjo.
Witch Doctor
I He dines alone surrounded by reflections of himself. Then after sleep and benzedrine descends the Cinquecento stair his magic
Mourning Poem For The Queen Of Sunday
Lord's lost Him His mockingbird, His fancy warbler; Satan sweet-talked her, four bullets hushed her.
All poems of Robert Hayden »
Share your comments »
Runagate Runagate
Runs falls rises stumbles on from darkness into darkness
and the darkness thicketed with shapes of terror
and the hunters pursuing and the hounds pursuing
and the night cold and the night long and the river
to cross and the jack-muh-lanterns beckoning beckoning
and blackness ahead and when shall I reach that somewhere
morning and keep on going and never turn back and keep on going

Runagate