Ramon Lopez Velarde
Biography of Ramon Lopez Velarde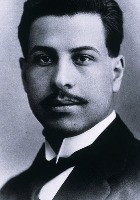 Ramón López Velarde (June 15, 1888 – June 19, 1921) was a Mexican poet. His work is generally considered to be postmodern, but is unique for its subject matter. He achieved great fame in his native land, to the point of being considered Mexico's national poet.

Ramon Lopez Velarde's Works:

* 1916 - La sangre devota
* 1919 - Zozobra
* 1932 - El son del corazón
This page is based on the copyrighted Wikipedia Ramon Lopez Velarde; it is used under the Creative Commons Attribution-ShareAlike 3.0 Unported License. You may redistribute it, verbatim or modified, providing that you comply with the terms of the CC-BY-SA.
¿Que Sera Lo Que Espero?
Tus otoños me arrullan
en coro de quimeras obstinadas;
vas en mí cual la venda va en la herida;
en bienestar de placidez me embriagas;
la luna lugareña va en tus ojos
¡oh blanda que eres entre todas blanda!
y no sé todavía
qué esperarán de ti mis esperanzas.