Biography of Publius Vergilius Maro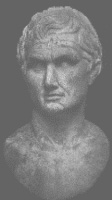 Vergil

or Virgil (Publius Vergilius Maro) 70 B.C.–19 B.C., Roman poet, born. Andes district near Mantua, in Cisalpine Gaul Vergil turned to rural poetry of a contrasting kind, realistic and didactic. In his Georgics , completed in 30 B.C., he seeks, as had the Greek Hesiod before him, to interpret the charm of real life and work on the farm. His perfect poetic expression gives him the first place among pastoral poets. For the rest of his life Vergil worked on the Aeneid , a national epic honoring Rome and foretelling prosperity to come. The adventures of Aeneas are unquestionably one of the greatest long poems in world literature.
This page is based on the copyrighted Wikipedia Publius Vergilius Maro; it is used under the Creative Commons Attribution-ShareAlike 3.0 Unported License. You may redistribute it, verbatim or modified, providing that you comply with the terms of the CC-BY-SA.
Eclogue 10: Gallus
This now, the very latest of my toils,
Vouchsafe me, Arethusa! needs must I
Sing a brief song to Gallus- brief, but yet
Such as Lycoris' self may fitly read.
Who would not sing for Gallus? So, when thou
Beneath Sicanian billows glidest on,
May Doris blend no bitter wave with thine,
Begin! The love of Gallus be our theme,
And the shrewd pangs he suffered, while, hard by,