Cat Poems - Poems For Cat
Poems about cat. You can read the best cat poems. Browse through all cat poems.
Cats (In The Style Of Bri Edwards) [rather Short, Humorous (I Hope) , Not Personal, Animals, Felines, Cats, Satire, And Of Course More Words In The Title Than In The Actual Poem.] - Poem by Kim Barney
If I were a cat
I would be different.
I wouldn't follow cat rules
And I'd play mean tricks
On those other cat fools.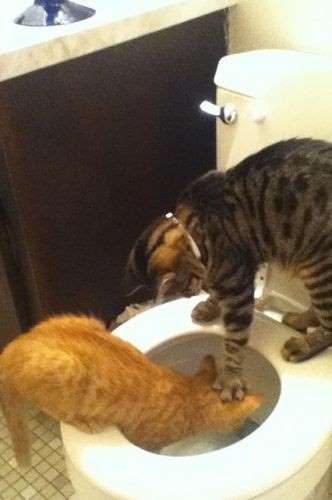 Comments about Cats (In The Style Of Bri Edwards) [rather Short, Humorous (I Hope) , Not Personal, Animals, Felines, Cats, Satire, And Of Course More Words In The Title Than In The Actual Poem.] by Kim Barney
Valsa George

(6/25/2015 6:11:00 AM)

The title of your poem closely resembles that of Bri Edwards and the content also comes almost near! Enjoyed this cute poem! (Report) Reply

Bri Edwards

(6/16/2015 12:58:00 PM)

OK! to MyPoemList, BUT only because it mentions ME! ! (Report) Reply

Bri Edwards

(6/16/2015 12:57:00 PM)

VERY FUNNY! not! ! i'm furious, aghast, shocked, AND dismayed! ! ! !

….. that someone has pegged old Bri is unheard of............., until now.

The drawing/painting/whatever i think was done of me and my brother in a previous lifetime.

i'll look at one more; they cat be ALL so bad............ i mean good!

Mary-aka-Bri :) :) (Report) Reply
Read all 4 comments »
Poems About Cat
1.

Cats (In The Style Of Bri Edwards) [rat.. , Kim Barney

2.

Johnny Cat That Talking Cat. , Michael Gale

3.

Catatonic , Sidi J. Mahtrow

4.

Crooked Cats , sylvia spencer

5.

The Cat And I On Sunday , Susan Lacovara

6.

Tit For Tat , sylvia spencer

7.

Companions , ivor or ivor.e hogg

8.

The Cat , Arynn D. Akins

9.

Artist Herbert Hofer , Suzae Chevalier

10.

Moonlight Sonata , Pradip Chattopadhyay

11.

Copy Cat Black , Jessica Holter

12.

**poppycat , Jon Alan

13.

Gregg's Yellow Cat , Sidi J. Mahtrow

14.

Curiosity Killed The Cat , Jon M. Nelson

15.

The Singing Bat , Herbert Nehrlich

16.

Cameron , Mark R Slaughter

17.

Disrespect , ivor or ivor.e hogg

18.

Kats And Doggs , Ted Sheridan

19.

A Pet Poem. , Gangadharan nair Pulingat..

20.

The Cat-Lover , Emmanuel George Cefai

21.

Have You Ever Seen A Cat That Could Dance? , Kenny Love

22.

And Pussy Cat , gajanan mishra

23.

M Is For Malcolm , Malcolm Bacchus

24.

I, The Cat? , Harper Chase

25.

Senryu(5-7-5) 3 , Aftab Alam

26.

A Cat Cry , otteri selvakumar

27.

9 Cat Poems , Raj Arumugam

28.

Pussy Cat Goes To London , S.D. TIWARI

29.

Morning Conversation , Connie Yost

30.

Cat Haiku , O Anna Niemus

31.

Cats Loved , Naveed Akram

32.

The Black Cat , Derek James

33.

Like Our Cat , Shalom Freedman

34.

A Rumpus , Ryan Brooks

35.

Nature Friends. , Gangadharan nair Pulingat..

36.

Pussy Goes To London, Nursery Rhyme , S.D. TIWARI

37.

Pantomime – Red Skelton And His Cat , Sidi J. Mahtrow

38.

The Hungry Cat Kalua , Akhtar Jawad

39.

The Bully And Me , Cynthia BuhainBaello

40.

My Cat , Sylvia Chidi

41.

A Cat's Tale , Seema Aarella

42.

Paradelle* For You , Ben Gieske

43.

Miele Vacuum Cleaner, Turbo Model , Herbert Nehrlich

44.

My Cat , Emily Krauss

45.

The Naughty Cat. , Gangadharan nair Pulingat..

46.

Talking To Animals (Fun Poem 97) , David Harris

47.

The Cat Sat On The Mat , James Hart

48.

Not My Karma , Krishnarasa Seshadri

49.

Black Cat , Gangadharan nair Pulingat..

50.

The Cat Still Wander Free , Francis Duggan