Biography of Patrick Moloney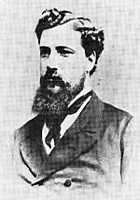 Moloney, Patrick.
Born in Hawthorn, Victoria, Australia in 1843. Educated at St. Patrick's College, Melbourne; graduated M.B., Melbourne University, 1867. He worked as a medical practitioner. Published one poem under the pseudonym 'Australis'.(Bertram Stevens, An Anthology of Australian Poetry, 1907 p.284)

Married Miss Quirk of Carlton (Vic.). Died at Ulverstone, Eng.,
September, 1904.
Melbourne
O sweet Queen-city of the golden South,
Piercing the evening with thy star-lit spires,
Thou wert a witness when I kissed the mouth
Of her whose eyes outblazed the skyey fires.
I saw the parallels of thy long streets,
With lamps like angels shining all a-row,
While overhead the empyrean seats
Of gods were steeped in paradisic glow.
The Pleiades with rarer fires were tipt,