Nkwachukwu Ogbuagu
Nkwachukwu Ogbuagu
(16 January 1968 / Umuahia, Nigeria)
Biography of Nkwachukwu Ogbuagu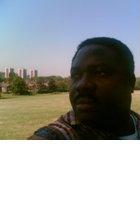 Son of a Headmaster and a Superintendent of schools, Nkwachukwu Ogbuagu, Nigerian poet, novelist and short story writer, was born to Francis and Mary Ogbuagu in the course of the internecine Nigeria/Biafra War. Ogbuagu attended the prestigious Government Secondary School, Owerri, Nigeria, where he began writing fiction in Form 4 and at the age of 15. Ogbuagu has always made it known that he inherited his creative gift from both his parents: his father wrote and published the history of his town in the 1960s; his mother possessed a rare power of oral description embellished in rich poetry. Ogbuagu holds a BA in history, and an M.Sc in International Affairs and Diplomacy. Over the years, Ogbuagu has written 20 books in novels, poetry and short stories. His third novel, BOSHETH WILLIAMS was published in England in 2003. Some of his poems have been published in newspapers and journals and online. A great lover of music, Ogbuagu reads voraciously, sketches and paints and loves travelling.

Nkwachukwu Ogbuagu's Works:

Bosheth Williams (a novel)
New Poems
Brexit
I hardly brew coffee alongside the metaphor of
English mornings blended with summer's febrile breath.
But, on this occasion, I did....
It was a stifling moment on television.
The social media was abuzz with the hiss of
Integrated journalism. I hated this moment I failed to believe myself
Upon the altar of this recent toponym. BREXIT.
The name plinks with resounding voices, exerting that energy of
Political consciousness.