Nihil Existentia
Biography of Nihil Existentia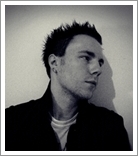 I have been writing for 5 years now.
My style of writing has always been very personal and dark. It is a way for me to process things, that i am currently going through.

To read more poems and see what else i am up to, follow my blog:

http: //nihilex.tumblr.com/

Nihil Existentia's Works:

-'nihil - A Book About Nothing' a poetry/ photography book, that is 50 pages long. It contains 22 poems and 24 photos. Released on blurb.com.

-'The Fallen' (2011) self-published, pdf ebook. Under the name 'Killing Hope'.

-'The Remains Of Dead Hope' self-published, pdf book. A collection of poems from 2006-2010. Under the name 'Killing Hope'.
I Am Done
Vulture on my shoulder...
Counting the days flashing before my very eyes...
Waiting for my stinking carcass to hit the ground
Teeth marks, scars and intentional damage done...
Roadkill on the run...
What will be left for you to chew on...
When another day is through...
I am done.