Musa Ndhlovu
Musa Ndhlovu
[MOOSE THE POET] (1994 April 04 / SOUTH AFRICA MPUMALANGA)
Biography of Musa Ndhlovu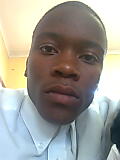 He express his own feeling by writing them down in a form of a poem to shear them with other people. You might find them touching, but he find it releving to write them down. He is not perfact but he strive to be the best. He was not born this way, JESUS CHRIST changed his life.

Mr. M Ndhlovu was born on the 4th of April 1994 at a clinic of Watervaal far outside of Siyabuswa in Mpumalanga. He was raised by his mother and father with the help of his grandmother from his father's side.

Between 2000 and 2003 his grand mother on his father's side passed away. He started school at the age of 7 at oost' eend primary school in Pretoria 2001.2002 he changed school and went to Future Achieves Academy. On the same year, his parents divorced and lived with his mother, from 2003 - 2005, he went to another school in Middleburg Combined School. Early 2006 his mother passed away and he was forced to change location and school; he went to live with his grandmother on his mother's side in a village called Wolwekraal outside of Siyabuswa in Mpumalanga.

2006 - 2007 he went to school at Bekezela Primary School. As he went to high school, he changed schools and went to Slindile Secondary School in 2008 - 20010. He was successfully able to complete his Education at Kwandebele Science School in Gaphahla next to Siyabuswa 2011 - 2014 at the age of 20. Living with his aunt who was a domestic workers.


As a young man, he once got himself in a multiple of relationship of three. However, there was one lady who loved him more than the others did. She was the first lady she proposed amongst the other two. His time with her was small and it was worth it. As a teenager, he had dreams and wishes, most of his dreams was about his family that was promised to him by God Almighty. At some period, he thought of being honest to himself as well as to the one he love the most amongst the three. But than for him to see who loved him most, was to brake up with them all. He started by brake up with the one who loved him most. Then the one who was not even sure who and how he was and ended up with the one who he spent more time with.

The brake up he did with them all made him to realize that the one who he spent most time with got over him so fast, then the one who did not know him well enough as a lover wanted to fix things with him but she gave up on him. But then, after fourteen days; the one who loved him more than the other two was able to show him that she love him and her life was not going to be normal with out him. Mr. M Ndhlovu came to his sense and started to be honest with her. They bonded together and sheared many things together. They both decided to get married and live happily together.

Currently he is still in school, Praising and Worshipping the LORD God Almighty. He is waiting for the right time to settle down. He want to do psychology, but his garden want him to do construction management. At this days of his life, he is a faithful servant of the LORD JESUS.
New Poems
Her Attrection
I could feel her breath as she speaks
Next to me. I could not stop looking
In her eyes, they are as clean as snow,
Her brown chunk chubby cheeks are as
Soft as cotton. O my! I have seen
The beauty of the LORD in flash.
The structure of her body is so amazing.
My hands on her were like lotion
All over her. Before she came our love