Nikka Costa
Biography of Nikka Costa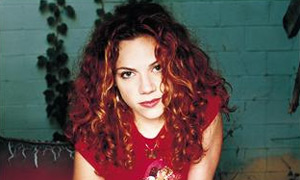 Nikka Costa (born: June 4, 1972) is no stranger to the music business. Having been raised inside some of the most influential social circles during her childhood, Costa was molded for perfection in her own right. She's the daughter of famed arranger/producer Don Costa (Paul Anka, Dinah Washington, Tony Bennett), not to mention the goddaughter of Frank Sinatra. Her first musical gig was at age five, opening for Don Ho. Two years later she wowed 300,000 Police fans in Chile. Nikka Costa was a natural.

Costa went back and forth between Los Angeles and Europe, maintaining a sharp childhood sense while molding a sophisticated music career. By age seven, she sang "On My Own" with the Don Costa Orchestra in Milan. From there, her sassy persona was captured on record. She released several albums throughout Europe, Israel, Central and South America, most of them going platinum. Whirlwind success, however, was not overwhelming. Costa's early days spent in her father's recording studio, meeting Quincy Jones, Sly Stone, and Sammy Davis Jr., perfected this inspiring singer/songwriter into the humble individual she's turned out to be.

Her late teens were spent on the top of the German charts and by the time she reached her mid-twenties, she called Australia home. She became a favorite among the Outback, landing a deal with Mushroom Records and issuing Butterfly Rocket in the mid-'90s. It garnered a nomination for "Best New Artist" at the annual Australian Recording Industry Awards.

The new millennium sparked a new scene for Costa. Now a mature woman with a fiery spark of determination and passion, this red-headed siren's songwriting expanded into an alluring art. Her urban vocalic stylings sashayed with a raw sexiness, yet with class. She signed with the Aussie label Cheeba Sound, home to soon-to-be labelmate D'Angelo. The sultry single "Like a Feather" marked Costa's almost ignored debut in fall 2000 when the cut was used in a Tommy Hilfiger advert. Virgin Records took notice though, properly introducing Nikka Costa to the world in spring 2001 with the full-length release of Everybody Got Their Something.