Avril Lavigne
Biography of Avril Lavigne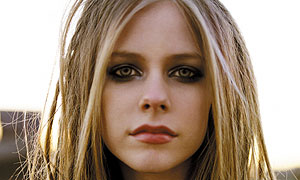 Rock & roll wild child Avril Lavigne hit big in summer 2002 with her spiky-fun debut song "Complicated," shifting pop music into a different direction. Lavigne, who was 17 at the time, didn't seem concerned with the glamor of the TRL-dominated pop world and such confidence allowed her star power to soar.

The middle of three children in small town Napanee, Ontario, Lavigne's rock ambitions were noticeable around age two. By her early teens, she was already writing songs and playing guitar. The church choir and local festivals and county fairs also allowed Lavigne to get her voice heard, and luckily, Arista Records' main man Antonio "L.A." Reid was listening. He offered her a deal, and at 16, Lavigne's musical dreams became reality.

With Reid's assistance and a new Manhattan apartment, Lavigne found herself surrounded by prime songwriters and producers, but it wasn't impressive enough for her to continue. She had always relied on her own ideas to create a musical spark and things weren't going as planned. Lavigne wasn't disillusioned, though. She headed for Los Angeles and Nettwerk grabbed her. Producer/songwriter Clif Magness (Celine Dion, Wilson Phillips, Sheena Easton) tweaked Lavigne's melodic, edgy sound and her debut, Let Go, was the polished product. Singles such as "Complicated" and "Sk8er Boi" went top 10 while "I'm With You" and "Losing Grip" did moderately well at radio. Butch Walker of the Marvelous 3, Our Lady Peace frontman Raine Maida and Don Gilmore (Linkin Park, Good Charlotte) signed on to produce Lavigne's second album. Under My Skin appeared in May 2004.