Biography of Little King of Sorrows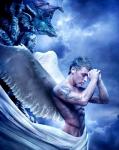 As I am now over 50 poems in, I guess you could say I'm becoming a 'regular'. With no end in sight. Here is to the next 50. I highly recommend these fellow poets who have inspired me.

1.Aswath Raman
2.Rabia Minhas
3.Unwritten Soul
4.Titi Dale
5.Umbrella Lady
6.Wind Song

Little King of Sorrows's Works:

Not yet.
This page is based on the copyrighted Wikipedia Little King of Sorrows; it is used under the Creative Commons Attribution-ShareAlike 3.0 Unported License. You may redistribute it, verbatim or modified, providing that you comply with the terms of the CC-BY-SA.
Good poem Bad poem
As other's sleep and other's wake,
I come here not to steal or take,
I come here not for same mistake,
I come for blame that I must take.
Some in peace and some in hell,
I came here not with junk to sell,
I came here not with lies to tell,
I come to help those who fell.
Chose to speak or turn away,