Little King of Sorrows
Little King of Sorrows
[L.K.Sorrows]
Biography of Little King of Sorrows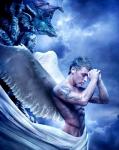 As I am now over 50 poems in, I guess you could say I'm becoming a 'regular'. With no end in sight. Here is to the next 50. I highly recommend these fellow poets who have inspired me.

1.Aswath Raman
2.Rabia Minhas
3.Unwritten Soul
4.Titi Dale
5.Umbrella Lady
6.Wind Song

Little King of Sorrows's Works:

Not yet.
Racing Heart Be Still
Thine racing heart, be still!
Bid not thy love 'Ado'.
Hope is not abandoned.
Behold me something new.
A time must pass...
en tu a day.
Mine flesh and bone must go away.
Fret not my love!
Prepare us not a grave!