Joseph T. Renaldi
Joseph T. Renaldi
(Frackville, Pennsylvania)
Biography of Joseph T. Renaldi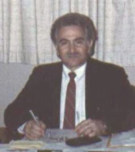 I am originally from Windber, Pennsylvania.For many years I lived in Frackville located in eastern Pennsylvania.I am the author of The Wailing Wind, A Tale of Love and Obsession and an assortment of poetry.The poem, Graduation Day is the most read of all the poems that I have written thus far.Many of my poems have been used by many individuals and organizations throughout the world.I spent forty(40) years in the field of education and am now retired.Since my retirement I spent much of my time to the visual arts, especially writing, painting, drawing, and woodcrafts.My basic life resume consists of the following: Education: Windber High School, Windber, PA, Western Maryland College, Westminster, MD.Military Service: USAF - United States, Japan, Korea.I have been married to the former Doris Hawk of Littlestown, PA for sixty (60) years. Children: Jan Renaldi, Morrisville, NC, Daniel J. Renaldi, Frackville, PA, Lori Renaldi Waqar, Harrisburg, PA. Grandchildren: Brianna Renaldi, Wilmington, NC, Lindsay Nicole Waqar, Harrisburg, PA.

During my career I served in the following capacities: Assistant Football Coach, Tachikawa AFB, Japan, Assistant Varsity Football Coach, Western Maryland College, Westminster, MD. Head Football Coach and Teacher of Civics and Economics at New Cumberland High School, New Cumberland, PA. Head Football, Basketball, and Baseball Coach and teacher of Latin and History at Frackville High School, Frackville, PA. Assistant Varsity Football Coach at Drexel University, Philadelphia, PA. Teacher, Defensive Football Coordinator, Head Track Coach, Junior High Basketball Coach in the Saint Clair Area School District, Saint Clair, PA. I served as the Administrative Assistant to the Superintendent of the Saint Clair Area School District, Saint Clair, PA for twenty (20) years.

Joseph T. Renaldi's Works:

The Wailing Wind, A Tale of Love and Obsession
The Years Gone By
Oh, the years gone by, the years gone by!
The trees in the orchard, and passage through the rye.
The mourning dove and the shrill of the quail
as it skipped across the yard gingerly as well
when the blossoms were on the trees beneath the azure sky.

The years gone by when my bare feet were tripped
by the vegetative tangles where water lilies dripped,
and the waves of the stream striking the moss along the brink.