Biography of John Perreault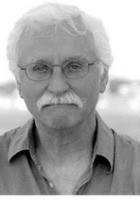 John Perrault is a lawyer, teacher, poet, and balladeer. Over the years he has performed his songs and poems in numerous venues throughout New England, including The New England Folk Festival, The Maine Festival, The Prescott Park Arts Festival, Chautauqua, Writers' Day for the New Hampshire Writers' Project, The Maine Writers Conference, The Seacoast Writers Conference, Passim, The Stone Church, and countless libraries, schools and coffee houses. He is the author of Jefferson's Dream, The Ballad of Louis Wagner and other New England Stories in Verse, and Here Comes the Old Man Now. He was poet laureate of Portsmouth, NH, 2003 - 2005.

John Perreault's Works:

The Ballad of Louis Wagner and other New England Stories in Verse (2003)
Here Comes the Old Man Now (2005)
Jefferson's Dream (forthcoming)
This page is based on the copyrighted Wikipedia John Perreault; it is used under the Creative Commons Attribution-ShareAlike 3.0 Unported License. You may redistribute it, verbatim or modified, providing that you comply with the terms of the CC-BY-SA.
Readymade
The Venus Fly Trap

(1) A Beautiful Plant!

Its dark green leaves form a low symmetrical rosette. Each leaf is tipped with a lovely pink trap.

(2) Eats Flies And Insects!

Each pink trap contains a bit of nectar. It is this color and sweetness which attracts the unsuspecting insect. Once he enters the trap, it snaps shut. Digestive juices then dissolve him.