John O'Brien
John O'Brien
[Monsignor Patrick Joseph Hartigan] (13 October 1878 - 27 December 1952 / Australia)
Biography of John O'Brien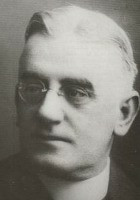 Monsignor Patrick Joseph Hartigan was an Australian Roman Catholic priest, educator, author and poet.

Biography

He was born at Yass, New South Wales and ordained after study at St Patrick's Seminary, Manly. Writing under the pseudonym "John O'Brien" Hartigan's verse celebrated the lives and mores of the outback pastoral folk he ministered as a peripatetic curate to the southern New South Wales and Riverina towns of Thurgoona, Berrigan and Narrandera, in the first two decades of the 20th century. His poetry was very popular in Australia and was well received in Ireland and the United States.

The refrain We'll all be rooned from his poem Said Hanrahan has entered colloquial Australian English as a jocular response to any prediction of dire consequences arising, particularly, from events outside the interlocutor's control.

Hartigan died in Lewisham, an inner suburb of Sydney in 1952.

Legacy

A John O'Brien Festival is held annually in Narrandera.

John O'Brien's Works:

Around the Boree Log and Other Verses 1921
The Parish of St Mel's 1954
This page is based on the copyrighted Wikipedia John O'Brien; it is used under the Creative Commons Attribution-ShareAlike 3.0 Unported License. You may redistribute it, verbatim or modified, providing that you comply with the terms of the CC-BY-SA.
Popular Poems
Said Hanrahan
The Little Irish Mother
Tangmalangmaloo
Could I hear the Kookaburras once again
The Old Bush School
Six Brown Boxer Hats
The Kookaburras
The Meeting
The Altar Boy
Around the Boree Log
The Presbyt'ry Dog
More poems of John O'Brien »
Share your comments »
Said Hanrahan
"We'll all be rooned," said Hanrahan
In accents most forlorn
Outside the church ere Mass began
One frosty Sunday morn.

The congregation stood about,
Coat-collars to the ears,
And talked of stock and crops and drought
As it had done for years.