John Liddell Kelly
Biography of John Liddell Kelly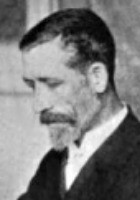 Born near Airdrie, Scotland, 19th February, 1850. John Liddell Kelly left school at the age of eleven and was self-educated afterwards. He married in 1870 and emigrated to New Zeland in 1880.

He worked as a Sub-editor for the Auckland Star and as editor for the Auckland Observer. Mr Kelly also has served as assistant editor for the Lyttelton Times and editor of the New Zealand Times.

John Liddell Kelly's Works:

Tahiti, the Land of Love and Beauty (Auckland, 1885)
Tarawera, or the Curse of Tuhoto (Auckland, 1887)
Zealandia's Jubilee (Auckland, 1890)
Heather and Fern (Wellington, 1902)
This page is based on the copyrighted Wikipedia John Liddell Kelly; it is used under the Creative Commons Attribution-ShareAlike 3.0 Unported License. You may redistribute it, verbatim or modified, providing that you comply with the terms of the CC-BY-SA.
Immortality
At twenty-five I cast my horoscope,
And saw a future with all good things rife --
A firm assurance of eternal life
In worlds beyond, and in this world the hope
Of deathless fame. But now my sun doth slope
To setting, and the toil of sordid strife,
The care of food and raiment, child and wife,
Have dimmed and narrowed all my spirit's scope.