John Liddell Kelly
Biography of John Liddell Kelly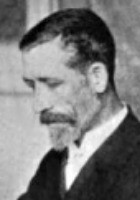 Born near Airdrie, Scotland, 19th February, 1850. John Liddell Kelly left school at the age of eleven and was self-educated afterwards. He married in 1870 and emigrated to New Zeland in 1880.

He worked as a Sub-editor for the Auckland Star and as editor for the Auckland Observer. Mr Kelly also has served as assistant editor for the Lyttelton Times and editor of the New Zealand Times.

John Liddell Kelly's Works:

Tahiti, the Land of Love and Beauty (Auckland, 1885)
Tarawera, or the Curse of Tuhoto (Auckland, 1887)
Zealandia's Jubilee (Auckland, 1890)
Heather and Fern (Wellington, 1902)
This page is based on the copyrighted Wikipedia John Liddell Kelly; it is used under the Creative Commons Attribution-ShareAlike 3.0 Unported License. You may redistribute it, verbatim or modified, providing that you comply with the terms of the CC-BY-SA.
Heredity
More than a fleshly immortality
Is mine. Though I myself return again
To dust, my qualities of heart and brain,
Of soul and spirit, shall not cease to be.
I view them growing, day by day, in thee,
My first-begotten son; I trace them plain
In you, my daughters; and I count it gain
Myself renewed and multiplied to see.