Biography of John Ciardi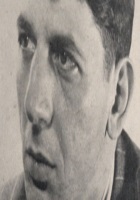 John Anthony Ciardi (June 24, 1916 – March 30, 1986) was an American poet, translator, and etymologist. While primarily known as a poet, he also translated Dante's Divine Comedy, wrote several volumes of children's poetry, pursued etymology, contributed to the Saturday Review as a columnist and long-time poetry editor, and directed the Bread Loaf Writers' Conference in Vermont. In 1959, Ciardi published a book on how to read, write, and teach poetry, How Does a Poem Mean?, which has proven to be among the most-used books of its kind. At the peak of his popularity in the early 1960s, Ciardi also had a network television program on CBS, Accent. Ciardi's impact on poetry is perhaps best measured through the younger poets whom he influenced as a teacher and as editor of The Saturday Review.
This page is based on the copyrighted Wikipedia John Ciardi; it is used under the Creative Commons Attribution-ShareAlike 3.0 Unported License. You may redistribute it, verbatim or modified, providing that you comply with the terms of the CC-BY-SA.
Men Marry What They Need
Men marry what they need. I marry you,
morning by morning, day by day, night by night,
and every marriage makes this marriage new.

In the broken name of heaven, in the light
that shatters granite, by the spitting shore,
in air that leaps and wobbles like a kite,

I marry you from time and a great door