Jean Toomer
Jean Toomer
(26 December 1894 – 30 March 1967 / Washington D.C.)
Biography of Jean Toomer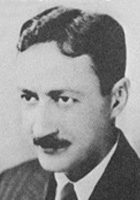 Jean Toomer was an American poet and novelist and an important figure of the Harlem Renaissance. His first book Cane is considered by many as his most significant.

Life and Career

Early Life

Toomer was born Nathan Eugene Pinchback Toomer in Washington, D.C. His father was a prosperous farmer, originally born into slavery in Hancock County, Georgia. Nina Pinchback was also of mixed ethnic descent. Her father was Louisiana Governor P. B. S. Pinchback, the first African American to become governor of a U.S. state. (Both of Toomer's maternal grandparents had white fathers. Pinchback's father was a planter and his mother was a mulatto slave who was freed before his birth. After Reconstruction, the Pinchbacks had moved to Washington, DC, where they became part of the "mulatto elite".

Toomer's father (also called Nathan Toomer) abandoned the family when his son was an infant, and the boy and his mother lived with her parents. As a child in Washington, Toomer attended all-black schools. When his mother remarried and they moved to suburban New Rochelle, New York, he attended an all-white school. After his mother's death, Toomer returned to Washington to live with his grandparents Pinchback. He graduated from the M Street School, an academic black high school. By his early adult years, Toomer resisted racial classifications and wanted to be identified only as an American.

Between 1914 and 1917 Toomer attended six institutions of higher education (the University of Wisconsin, the Massachusetts College of Agriculture, the American College of Physical Training in Chicago, the University of Chicago, New York University, and the City College of New York) studying agriculture, fitness, biology, sociology, and history, but he never completed a degree. His wide readings among prominent contemporary poets and writers, and the lectures he attended during his college years, shaped the direction of his writing.

Career

After leaving college, Toomer published some short stories and continued writing in the volatile social period following World War I. He worked for some months in a shipyard in 1919, then escaped to middle-class life. Labor strikes and race riots occurred in several major cities during the summer of 1919, and artistic ferment was high. He devoted several months to the study of Eastern philosophies and continued to be interested in this. Some of his early writing was political, and he published three essays from 1919-1920 in the prominent socialist paper New York Call. They drew from the socialist and "New Negro" movements of New York. Toomer was reading much new American writing, for instance Waldo Frank's Our America (1919).

In 1921 Toomer took a job for a few months as a principal at a new rural agricultural and industrial school for blacks in Sparta, Georgia. It was in the center of Hancock County and in the Black Belt 100 miles southeast of Atlanta. His exploration of his father's roots in Hancock County, as well as being forced into witnessing the segregation and labor peonage of the Deep South, led him to identify more strongly as an African American. Several lynchings took place in Georgia during 1921-1922, continuing to enforce white supremacy with violence. In 1908 the state had ratified a constitution essentially disfranchising blacks; by Toomer's time, it passed laws to prevent outmigration and established high licenses fees for employers recruiting labor in the state. African Americans had started their Great Migration north and planters feared losing their pool of cheap labor. It was a formative experience for Toomer; he started writing about it while still in Georgia and submitted the long story "Georgia Night" to the Liberator in New York while there.

Toomer returned to New York where he became friends with Waldo Frank, who also served as his mentor and editor on his novel Cane. In 1923, Toomer published the High Modernist novel Cane, in which he used a variety of forms, and material inspired by his time in Georgia. It was also an "analysis of class and caste", with "secrecy and miscegenation as major themes of the first section". He had conceived it as a short-story cycle, and acknowledged the influence of Sherwood Anderson's Winesburg, Ohio (1919) as his model, in addition to other influential works of that period. He also appeared to have absorbed T.S. Eliot's The Wasteland and considered him one of the American group of writers he wanted to join, "artists and intellectuals who were engaged in renewing American society at its multi-cultural core."

Many scholars considered Cane to be his best work. A series of poems and short stories about the black experience in America, Cane was hailed by critics and is seen as an important work of both the Harlem Renaissance and the Lost Generation. Toomer resisted racial classification and did not want the book marketed as a black work. As he said to his publisher Horace Liveright, "My racial composition and my position in the world are realities that I alone may determine." Toomer found it more difficult to get published throughout the 1930s, as did many authors during the Great Depression.

He became very interested in the work of the spiritual leader George Ivanovitch Gurdjieff, who had a lecture tour in the United States in 1924. That year, and in 1926 and 1927, Toomer went to France to study with Gurdjieff, who had settled at Fontainebleau. He was a student of Gurdjieff until the mid-1930s.

Marriage and Family

In 1931 Toomer married the writer Margery Latimer. The following year she died in childbirth in August 1932 and he named their only daughter Margery.

In 1934 he married a second time, to Marjorie Content. Because Toomer was notable as a writer, his two marriages, both classed as inter-racial, attracted notice and some social criticism. In 1940 the Toomers moved to Doylestown, Pennsylvania. There he formally joined the Quakers and began to withdraw from society.

Writing

Toomer wrote a small amount of fiction and published essays in Quaker publications during this time, but devoted most of his time to serving on Quaker committees and working with high school students. His last literary work published during his lifetime was Blue Meridian, a long poem extolling "the potential of the American race". He stopped writing for publication after 1950, although he wrote for himself, including several autobiographies. He died in 1967 after several years of poor health.

Legacy and Archives

Toomer's papers and unpublished manuscripts are held by the Beinecke Library at Yale University.

When Cane was reprinted in 1969, it was favorably reviewed as a "Black Classic", leading to a revival of interest in Toomer's work. More recently, collections of Toomer's poetry and essays have been published, as well as the reprinting of his 1931 book Essentials, which was self-published and included "Gurdjieffian aphorisms".

2002, Toomer was elected to the Georgia Hall of Fame.

Jean Toomer's Works:

Cane (New York: Boni and Liveright, 1923)
Problems of Civilization, by Ellsworth Huntington, Whiting Williams, Jean Toomer and others, (New York: D. Van Nostrand Co., 1929)
Essentials: Definitions and Aphorisms (Chicago: Lakeside Press, 1931)
An Interpretation of Friends Worship (Philadelphia: Committee on Religious Education of Friends General Conference, 1947)
The Flavor of Man (Philadelphia: Young Friends Movement of the Philadelphia Yearly Meeting, 1949)
The Collected Poems of Jean Toomer (Chapel Hill: University of North Carolina Press, 1988)
This page is based on the copyrighted Wikipedia Jean Toomer; it is used under the Creative Commons Attribution-ShareAlike 3.0 Unported License. You may redistribute it, verbatim or modified, providing that you comply with the terms of the CC-BY-SA.
The Lost Dancer
Spatial depths of being survive
The birth to death recurrences
Of feet dancing on earth of sand;
Vibrations of the dance survive
The sand; the sand, elect, survives
The dancer. He can find no source
Of magic adequate to bind
The sand upon his feet, his feet
Upon his dance, his dance upon
The diamond body of his being.