Biography of Janice Windle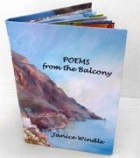 You can hear a selection of our poems at http: //www.myspace.com/counterpointpoetry, the myspace page that Dónall Dempsey and I have set up as a showcase for reading our work.

As an artist I like to illustrate my own work and I've made a short edition of hand-sewn books which I've digitally printed from original paintings and poems that I wrote while staying on the Amalfi Coast, Italy, last year. The books are available from my website (http: //www.artwork4u.com) or from me personally at a reduced price if you contact me with an order on this site.

Like a butterfly emerging painfully in several stages I've morphed a few times in my life, from art student to teacher, from rebellious confused twenty-something to faithful wife and well-meaning mother, from bored middle-aged art teacher to egocentric freethinking Italophile and painter, and finally last year I emerged as an embryo poet. My final metamorphosis is in progress. I've begun the journey towards late middle age as the lover of the man I had never met when I wrote my despairing poems of loss, lust and longing in 2006 - 2007 (most of which I've deleted from here.) As his Janice A Wilsdon, Janice A Winslow and all the other soubriquets he has found to rescue me from my past, I'm emerging as the butterfly self I've been looking for for the last 63 years.


My paintings of places and my handmade books are on my website at www.artwork4u.com. I have two Italian diary blogs which can be reached from my website.

I hope you enjoy reading and viewing my world.

Janice Windle's Works:

'The New Poetry - Showcase Myspace' (anthology) published by Copeland Press 2008, ISBN 978-0-952909090-0-2. Available from Amazon and Copeland Books at www.copelandbooks.co.uk
This page is based on the copyrighted Wikipedia Janice Windle; it is used under the Creative Commons Attribution-ShareAlike 3.0 Unported License. You may redistribute it, verbatim or modified, providing that you comply with the terms of the CC-BY-SA.
If not for Love
If you and I had never met and loved,
My heart would be a tight black bud,
Forever furled, seeming to be promising
A fragrant opening, a spreading bed of roses,
But closed, bitten early by the frost,
Denying access to the butterfly of love.

If my eyes had never opened on your clear gaze,
My blindness, my oblivion, would be complete.