isatou juwara
isatou juwara
(27 / Sukuta town)
Biography of isatou juwara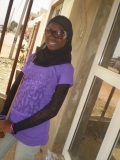 I'm just a simple girl from west africa who loves to read and write.I enjoy poetry and prose.I don't mind being friends with anyone cuz I just love making friends regardless of who you are or where you from.Am an open type and I like people who speak their mind.thats me! ! !
A Friend
A friend is a gift
sometimes give you a fit,
but a gift of nature
and a part of your future.

A friend is like a flower
of a beautiful summer,
in a lovely garden
and'll never let you sadden.

What makes a great friend
is the very true,
h/she's never a fury
for a friend is always cozy....