isatou juwara
isatou juwara
(27 / Sukuta town)
Biography of isatou juwara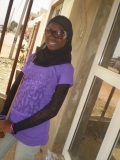 I'm just a simple girl from west africa who loves to read and write.I enjoy poetry and prose.I don't mind being friends with anyone cuz I just love making friends regardless of who you are or where you from.Am an open type and I like people who speak their mind.thats me! ! !
Life Is A Lottery
Everything is a trial
Even including your desires
You always have to chose
You don't have a choice.

Did you buy the right stockings?
Or better still the right quality?
Its trial and error
Thats life isn't it?