Ingeborg Bachmann
Biography of Ingeborg Bachmann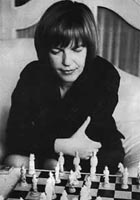 Bachmann was born in Klagenfurt, in the Austrian state of Carinthia, the daughter of a headmaster. She studied philosophy, psychology, German philology, and law at the universities of Innsbruck, Graz, and Vienna. In 1949, she received her Doctor of Philosophy from the University of Vienna with her dissertation titled "The Critical Reception of the Existential Philosophy of Martin Heidegger," her thesis adviser was Victor Kraft.

After graduating, Bachmann worked as a scriptwriter and editor at the Allied radio station Rot-Weiss-Rot, a job that enabled her to obtain an overview of contemporary literature and also supplied her with a decent income, making possible proper literary work. Furthermore, her first radio dramas were published by the station. Her literary career was enhanced by contact with Hans Weigel (littérateur and sponsor of young post-war literature) and the legendary literary circle known as Gruppe 47, whose members also included Ilse Aichinger, Paul Celan, Heinrich Böll, Marcel Reich-Ranicki and Günter Grass.

In 1953, she moved to Rome, Italy, where she spent the large part of the following years working on poems, essays and short stories as well as opera libretti in collaboration with Hans Werner Henze, which soon brought with them international fame and numerous awards. Her relationship with the Swiss author Max Frisch (1911–1991) bestowed the role of the second protagonist in Frisch's 1964 novel Gantenbein upon her. His infidelity and the separation of the couple in 1962 had a deep impact on Bachmann.

Bachmann's work primarily focuses on themes like personal boundaries, establishment of the truth, and philosophy of language, the latter in the tradition of Austrian philosopher Ludwig Wittgenstein. Her doctoral dissertation expresses her growing disillusionment with Heidegerrian Existentialism, which was in part resolved through her growing interest in Wittgenstein, whose Tractatus Logico-Philosophicus significantly influenced her relationship to language.

Ingeborg Bachmann died in the Roman Sant' Eugenio hospital three weeks after a fire in her bedroom, on 17 October 1973. Local police concluded that the blaze was caused by a lit cigarette. Withdrawal symptoms when her stay in hospital interrupted her long habit of compulsive pill-taking may have contribued to her death. She is buried at the Annabichl cemetery.

Ingeborg Bachmann's Works:

Publications
Ingeborg Bachmann-Paul Celan: Correspondence (letters between Ingeborg and Paul Celan, published 2010)
"Darkness Spoken: The Collected Poems of Ingeborg Bachmann," translated and introduced by Peter Filkins, published by Zephyr Press, 2006. Bilingual on facing pages.
Last Living Words: The Ingeborg Bachmann Reader, translated by Lilian M. Friedberg, published by Green Integer, 2005
Letters to Felician (letters to an imaginary correspondent, written 1945, published posthumously). Edited & translated into English by Damion Searls. Green Integer Books, 2004.
Die gestundete Zeit (lyric poetry, 1953)
Die Zikaden (radio play, 1955)
Anrufung des Grossen Bären (lyric poetry, 1956)
Der gute Gott von Manhattan (radio play, 1958)
"Die Wahrheit ist dem Menschen zumutbar" (poetological speech at a German presentation of awards, 1959)
"Frankfurter Vorlesungen" (lecture on problems of contemporary literature, 1959)
Der Prinz von Homburg (libretto, 1960)
Das dreißigste Jahr (story volume, 1961)
Der junge Lord (libretto, 1965)
Malina (novel, 1971) Translated into English by Philip Boehm. Holmes & Meier, 1999.
Simultan (story volume, 1972)
Todesarten (novel-cycle project, unfinished)
The Barking (short story)
This page is based on the copyrighted Wikipedia Ingeborg Bachmann; it is used under the Creative Commons Attribution-ShareAlike 3.0 Unported License. You may redistribute it, verbatim or modified, providing that you comply with the terms of the CC-BY-SA.
I Step Outside Myself
I step outside
myself, out of my eyes,
hands, mouth, outside
of myself I
step, a bundle
of goodness and godliness
that must make good
this devilry
that has happened.