Biography of Gypsy Boy Varey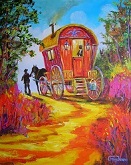 Gypsy Boy Varey is a writer and poet from the north of England. A full blooded Romnichal Gypsy, he spent the first 30 years of his life living in caravans and moving from place to place. He is a passionate supporter of Gypsy and Travellers rights issues but is the first to point out the problems that he believes Gypsys and Travellers bring upon themselves. He is a founding member of FREEDROM which is an organisation dedicated to the rehabilitation of offenders and the promotion and preservation of culture and heritage.
Bad Apple
Does one bad apple spoil the gender?
What's bred in is hard to kick out.
She's broken and no one can mend her,
Gives woman a bad name no doubt.

They don't buy from her they borrow,
Those ships that pass in the night.
And her destiny is untold sorrow,
She lacks the will to stand and fight.