Biography of Gypsy Boy Varey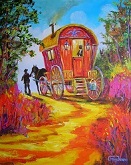 Gypsy Boy Varey is a writer and poet from the north of England. A full blooded Romnichal Gypsy, he spent the first 30 years of his life living in caravans and moving from place to place. He is a passionate supporter of Gypsy and Travellers rights issues but is the first to point out the problems that he believes Gypsys and Travellers bring upon themselves. He is a founding member of FREEDROM which is an organisation dedicated to the rehabilitation of offenders and the promotion and preservation of culture and heritage.
This page is based on the copyrighted Wikipedia Gypsy Boy Varey; it is used under the Creative Commons Attribution-ShareAlike 3.0 Unported License. You may redistribute it, verbatim or modified, providing that you comply with the terms of the CC-BY-SA.
Fashion Passion
What I saw today made me sick,
Was at the convention seen this chick.
She was young but not that dumb,
And carried her blaspheme round her bum.

She was walking round bold as brass,
With her blaspheme round her ass.
Wiggling it in a channel belt,
With Our Lord's name on her pelt.