Gypsy Boy Varey
Biography of Gypsy Boy Varey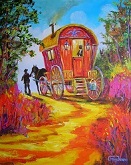 Gypsy Boy Varey is a writer and poet from the north of England. A full blooded Romnichal Gypsy, he spent the first 30 years of his life living in caravans and moving from place to place. He is a passionate supporter of Gypsy and Travellers rights issues but is the first to point out the problems that he believes Gypsys and Travellers bring upon themselves. He is a founding member of FREEDROM which is an organisation dedicated to the rehabilitation of offenders and the promotion and preservation of culture and heritage.
The Goldfinch
I hear the Goldfinch, and then I try,
To imagine the world, from a birds eye.
All through the day, up on the wing,
Oh, what joy, to hear her sing.

On wet summer days, you'll hear me sigh,
Where is my friend, from way on high?
They sing only for the sun, so I am told,
These little wonders, in gleaming gold.