Biography of Geetha Jayakumar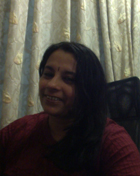 ©ALL RIGHTS RESERVED BY GEETHA JAYAKUMAR. All poems are Copyrighted.

I am Geetha Jayakumar, also wrote the poems in other name Sumi Nair. My love for writing and sharing poems has brought me here. Pomes are my passion. I started writing poems since April 2013 and my poem was submitted for first time in Poem hunter was on 1st May 2013. Poems were based on experience and imaginations.

'Words are as precious as pearls, one must never let it fall'
Using words as a powerful tool, amazing poems can be echoed! ! !
'My salutes to all the poets who carves a beautiful poems out of raw stones.'

IF?
If I could, sprinkle some words of happiness in your life.
If I could, spray some smiles in your face.
If I could, steal away some of your unhappiness.
If I could sow some seeds of Inspirations in you.
If I could, heal your painful wounds.
If I could share your pain and sorrow
If I could do something for you,
If I am ever in your sweet memories.
If I am remembered by you in your pain and happiness.
If my word of sorry could remove your hatred for me.
If you could forgive me for any word that knowingly or unknowingly hurt you.
If you could give me a tiny place in your kind heart!
If I could be in your sweet memories when I am no more!
If?

Let the Echo of 'Love you all'
Reach each and everyone from PH.
And this echo will touch you all and reach me back like an echo.

I would like to thank each and everyone from my heart for supporting me in this journey of poems. It was a fantastic journey travelled in 2013. Let's hope for something Bright and New in 2014

My Best Wishes for 2014! ! !
..............................................................................................................
One of the Beautiful quotes by Nelson Mandela says it all.
'What counts in life is not the mere fact that we have lived. It is what difference we have made to the lives of others that will determine the significance of the life we lead.'

He said it right
' Do not judge me by my successes, judge me by how many times I fell down and got back up again'

Thank You! ! !
This page is based on the copyrighted Wikipedia Geetha Jayakumar; it is used under the Creative Commons Attribution-ShareAlike 3.0 Unported License. You may redistribute it, verbatim or modified, providing that you comply with the terms of the CC-BY-SA.
New Poems
People who read Geetha Jayakumar also read
Happy Mother's day
Thank you Mom
is the three priceless word
I dedicate it to my Mom.
Mom is the three letter word
which means a lot to me.