Enid Derham
Enid Derham
(24 March 1882 – 13 November 1941 / Melbourne / Australia)
Biography of Enid Derham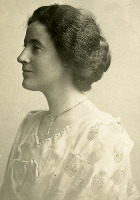 Enid Derham was an Australian poet and academic.

Life

Derham was born in Hawthorn, Melbourne, Victoria, the eldest daughter of Thomas Plumley Derham, solicitor, and his wife Ellen Hyde, née Hodgson, of Melbourne. Derham was educated at Hessle College, Camberwell, then at Presbyterian Ladies' College and the University of Melbourne. She graduated M.A. with final honours in classics in 1903, and subsequently studied at Oxford University.

Derham lectured in English at the University of Western Australia in 1921 and was appointed senior lecturer in English at the University of Melbourne in 1922, and held this position for the rest of her life. She died suddenly of a brain haemorrhage at her home in 1941.

Writing

In 1912 she published The Mountain Road and Other Verses, and Empire: A Morality Play for Children. She also edited books of prose, poetry and drama. A posthumous selection of her best poems.

Melbourne University Press released a posthumous anthology of her best work called Poems in 1952 which established her reputation as a poet.

While her poetry was influenced by her classical studies, she was one of the earliest Australian writers to recognise the poetry of Emily Dickinson

Enid Derham's Works:

The Mountain Road and Other Verses
Empire: A Morality Play for Children
Poems (Melbourne University Press)
This page is based on the copyrighted Wikipedia Enid Derham; it is used under the Creative Commons Attribution-ShareAlike 3.0 Unported License. You may redistribute it, verbatim or modified, providing that you comply with the terms of the CC-BY-SA.
The Suburbs
MILES and miles of quiet houses, every house a harbour,
Each for some unquiet soul a haven and a home,
Pleasant fires for winter nights, for sun the trellised arbour,
Earth the solid underfoot, and heaven for a dome.

Washed by storms of cleansing rain, and sweetened with affliction,
The hidden wells of Love are heard in one low-murmuring voice
That rises from this close-meshed life so like a benediction
That, listening to it, in my heart I almost dare rejoice.