Elena Sandu
Biography of Elena Sandu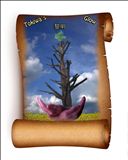 Am I a poet? Myself as such, how could I see?
I have no clue of how to write good poetry...
My tiny words, are nothing more then little tries
to have a whisper of my heart
(I only changed a habit, that of speaking to a wall,
the paper seems to listen to me more.)
.
Most of time I write fast and free, just like I love to dance, ignoring imposed rules the only thread followed being my soul, my heart, memory trying to catch on paper few moments of unconsciously instinctual breathing.
New Poems
Smile
Smile is my best friend!
Wish I could always keep him close
But sometimes, like a precious rose
He dies too early for no reason
And that, after being spledid
for an entire season!