Edwina Reizer

(12/22/1937 / LAKEWOOD, NJ)
Biography of Edwina Reizer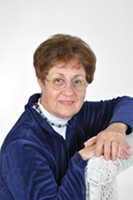 I am 76 years old and have been writing poetry for seven years. I taught music in the public schools in NJ for 25 years. I am married and have 2 sons and 3 grandchildren. Many of my poems are in 16 published books and I have also published 5 children's books written in poetic form. To purchase my books please visit: http: //stores.lulu.com/reizerj
I have written 170 songs and 149 of them are available for you to listen to along with videos on You tube.com They are under my name Edwina Reizer.

Edwina Reizer's Works:

16 poetry books Reflections on Living BK.1 and Bk.2
The Unfolding Beauty of Poetry, A Flicker in the Dark,
The Journey, The Perplexity of my Poet's Mind, Unmasked Thoughts, It's All About Love, Poetry For the Soul, Shorts, The Highways of Life Vol.1 and Volume 2, Love, Sweet and Bittersweet and Collected Poems. by Edwina Reizer, and my newest Thoughts of Poetry
This page is based on the copyrighted Wikipedia Edwina Reizer; it is used under the Creative Commons Attribution-ShareAlike 3.0 Unported License. You may redistribute it, verbatim or modified, providing that you comply with the terms of the CC-BY-SA.
ALL ALONE
She died in a house
Empty and alone.
They found her there
As cold as a stone.

A stone knows its place.
It stays on the ground.
But it's never alone.
Other stones are around.

But a woman alone
Who simply dies
Is out of place
'Cause no one cries.