David Lewis Paget

(22.11.1944 / Nottingham, England/live in Australia)
Biography of David Lewis Paget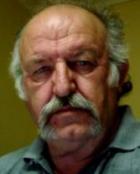 AUSTRALIAN POET. Born in Nottingham, lived in Great Barr, Birmingham, until the age of 13, when migrated to Australia. Lived in Adelaide, joined Air Force at 21 and became Instrument Fitter. Began writing poetry during duty crew and guard weekends. In 1976 fulltime to Flinders University of South Australia, Bachelors degree in English and History. Wrote and published a magazine for the unemployed called 'Bread'. Wrote and published monthly magazines 'Trader's Gate' and 'Central Yorke Peninsula Mercury' for three years in the late 1980's. Ran printing and publishing business Mushroom Graphics until 1990, then Cottage Print until 2005. Gave up poetry for five years, and wrote eight novels in the early 2000's.
Until recently was Teaching English at Wenzhou Medical College, an arm of the Wenzhou University, Zhejiang Province, People's Republic of China. The experience there prompted another foray into poetry, leading to the current narrative style chosen for the second incarnation. Now retired and living in South Australia. Author of the non-fiction 'Arrows from Wenzhou', a detailed account of the twelve months spent in China.
Concentrates these days on narrative poetry.

David Lewis Paget's Works:

Poetry Collections -
Stand Up & Be Counted - 1974
The Venus Bird - 1974
Terra Australis Incognita - 1975
Ishtar - 1977
Bitter Harvest - 1977
Weep - 1980
Inspirators - 1981
Spoils of War - 1984
Cader Rook - 1996
Perspectives in a Black Season - 2003
The Red Knight - 2003
Timepieces - 2009
Family History -
In My Father's Words - 1994
Queenie - 1996
Local History -
Of Miners & Methodists - 1988
Fiction -
Cates's Creek - 2001
The Sumner Tontine - 2001
Dark Harbour - 2001
The Afterdeath - 2002
Prittik's Will - 2002
Heaven's Ridge - 2002
Experiment in Fear - 2002
Blackrock Island - 2002
Humour -
Tales of Wudgi Crossing - 2003
Travel -
Arrows from Wenzhou - 2007
DVD's -
China Times Volume I
China Times Volume II
Storytelling Magic in Verse, Volume I
Storytelling Magic in Verse, Volume II
Storytelling Magic in Verse, Volume III
Storytelling Magic in Verse, Volume IV
This page is based on the copyrighted Wikipedia David Lewis Paget; it is used under the Creative Commons Attribution-ShareAlike 3.0 Unported License. You may redistribute it, verbatim or modified, providing that you comply with the terms of the CC-BY-SA.
New Poems
Sir John de Vere
Sir John de Vere has took a quill
And set himself to sit and write
The sweetest love that is of men
To take unto his heart's delight.

And he has took a damsel fair
That flitteth by, beseemingly,
And with a strand of golden hair
Begun to weave her mystery.