Cynthia BuhainBaello

(November 17,1949 / Manila, Philippines)
Biography of Cynthia BuhainBaello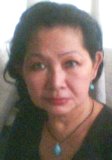 (Note: THERE IS NO POET NAMED CYNTHIA MARIE BUHAIN here on poemhunter, and this is the only account i have here.)
Writing poetry is passion, like breathing. If my writing touches but one life and gives it hope, then I have done my purpose in writing.

I like poems that rhyme, have rhythm, and meaning, or poems that tell a story. At present, I am into the study of Asian forms of poetry such as the Naani (Indian Telugu form) , and the Japanese poetry forms Haiku, Tanka, Waka, and Choka. Other forms such as Cinquain and the Triolet I find harder to write.

I've loved reading poetry since I was a child and some kids thought I was weird but I enjoyed it. I tried to write poems as early as age 8, some were published by the nuns in our school paper. One thing I found out, I was happy writing poetry - that's the most important thing, I think.

My favorite poets are Dorothy Parker, Ogden Nash, Walt Whitman, Christina Rossetti, Edgar Allan Poe, Rudyard Kipling, Roald Dahl, Langston Hughes and Lord Alfred Tennyson.


My poems have been featured in inspirational sites, 'A Breath of Inspiration' including works such as 'He is In My Boat' 'Emilie'(Jewel Chest awardee - www.faithwriters.com) , 'The Greatest Gift', 'Apolutrosis', 'Reislience' (published in The Anguilian) and 'Robert'. I write personalized poetry, memorial poems, wedding poems, and poems for baby's christening.

The poem 'Wolf', 'An Eerie Tale', 'A True Ghost Story', 'Death Comes to Any Age' 'The Pastor's Letter' 'For My Lost Brother' 'Sister Elly Ann' 'Merienda' are all true stories.

I'm a single mother and have three children ages 35,34, and 22. I own a handicrafts business.

Cynthia BuhainBaello's Works:

My poem 'Resilience' was published in 'The Anguillan' (on line) March,2011.

Other poems publsihed in an anthology 'Permanent Travelers' Vol. i- III www.amazon.com

http: //www.amazon.com/gp/product/1491057041? ie=UTF8&force-full-site=1&ref_=aw_bottom_links
This page is based on the copyrighted Wikipedia Cynthia BuhainBaello; it is used under the Creative Commons Attribution-ShareAlike 3.0 Unported License. You may redistribute it, verbatim or modified, providing that you comply with the terms of the CC-BY-SA.
People who read Cynthia BuhainBaello also read
Connection (Cinquain)
Moonbeams
Peek through tall trees
Soft gem lights touch me now
Far where you are, they touch you too
Love sent.