Biography of Clifton Redmond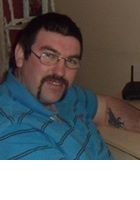 Cllifton Redmond was born in 1982 in a small rural town in Co. Carlow Ireland called Hacketstown. Born into the tough econimic times of the eighties. POETRY IN MOTION

DISPLAYING a turn of phrase
as sharp as his butchers knife,
Oakley Grove resident Clifton
Redmond has shown himself
to be a gifted poet even though
he has only seriously dedicated
himself to the craft for less than
a year.

"I started it about last
August, " says Clifton. "I've
always been interested in music
and lyrics. I stumbled across
a poetry website which helps
people to start writing poems
and I said I'D give it a go and
see what feedback I got."

With poems like Race The Wind,
which tenderly recalls his youth spent
playing with his late brother Thomas, or
Fifteen Years, which peers into his life
spent working in the halls of an abattoir,
Redmond shows a serious talent for words.
The 31-year-old says his love of language
has grown over the years since he left
school and took a job at Kepak meat
processing plant in his native Hacketstown.
"I went into transition year for one half-
day and I didn't like it, so I left. I got a
job as a butcher and I've been there ever
since, " says Clifton. "I was very lazy. I've had to learn
it all myself as I went along."

Redmond started by writing a poem each
morning rising at 6am to spend an hour
with his words before leaving for work.
Now, his morning ritual has expanded.
"I pen a first draft, leave it for a day or
two and work on it again, " he says.

Citing the likes of Dylan Thomas, Anne
Sexton and Seamus Heaney among his
influences, Redmond has already self-
published a collection of his work called
RACE THE WIND.

"I decided to put something together,
something solid. But I have another book
ready and waiting in the wings if I can get
the support of a publisher."

The long tradition of celebrated Irish
poets may have found someone new to
carry the touch in Graiguecullen

Clifton Redmond's Works:

Race The Wind
This page is based on the copyrighted Wikipedia Clifton Redmond; it is used under the Creative Commons Attribution-ShareAlike 3.0 Unported License. You may redistribute it, verbatim or modified, providing that you comply with the terms of the CC-BY-SA.
Che
Armed with bayonets and books
haunted by yourself
you climbed
the highest hills and cried

Is the truth of men
written in the stars
or hidden in the pages
of the manifesto?