Cesar Vallejo
Biography of Cesar Vallejo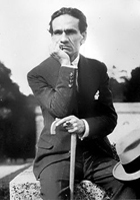 César Abraham Vallejo Mendoza was a Peruvian poet. Although he published only three books of poetry during his lifetime, he is considered one of the great poetic innovators of the 20th century in any language. Thomas Merton called him "the greatest universal poet since Dante". Always a step ahead of literary currents, each of his books was distinct from the others, and, in its own sense, revolutionary. Clayton Eshleman and José Rubia Barcia's translation of The Complete Posthumous Poetry of César Vallejo won the National Book Award for translation in 1979. The late British poet, critic and biographer Martin Seymour-Smith, a leading authority on world literature, called Vallejo "...the greatest twentieth-century poet in any language."

Life

César Vallejo was born the youngest of eleven children in Santiago de Chuco, a remote village in the peruvian Andes. He studied literature at University of Trujillo in Trujillo. Lack of funds forced him to withdraw from his studies for a time and work at a sugar plantation, the Roma Hacienda, where he witnessed the exploitation of agrarian workers firsthand, an experience which would have an important impact on his politics and aesthetics. Vallejo received a BA in Spanish literature in 1915, the same year that he became acquainted with the bohemia of Trujillo, in particular with APRA co-founders Antenor Orrego and Victor Raul Haya de la Torre.

In 1916 Vallejo moved to Lima, where he studied at National University of San Marcos, read, worked as a schoolteacher, and came into contact with artistic and political avant-garde. While in Lima he also produced his first poetry collection, Los Heraldos Negros. Despite its publication year of 1918, the book was actually published a year later. It is also heavily infuenced by the poetry and other writings of fellow Peruvian Manuel Gonzalez Prada, who had only recently died. Vallejo then suffered a number of calamities over the next few years: he refused to marry a woman with whom he had an affair and thus lost his teaching post, his mother died in 1920, and he went to prison for 105 days for alleged intellectual instigation of a partisan skirmish in his hometown, Santiago de Chuco. Nonetheless, 1922 he published his second volume of poetry, Trilce, which is still considered one of the most radically avant-garde poetry collections in the Spanish language. After publishing the short story collections Escalas melografiadas and Fabla salvaje in 1923, Vallejo emigrated to Europe under the threat of further incarceration and remained there until his death in Paris in 1938.

His European years found him living in dire poverty in Paris, with the exception of three trips to the USSR and a couple of years in the early 1930s spent in exile in Spain. In 1926 he met his first French mistress, Henriette Maisse, with whom he lived until a breakup in October 1928. In 1927 he had formally met Georgette Marie Philippart Travers (see Georgette Vallejo), whom he had seen when she was 17 and lived in his neighborhood. This was also the year of his first trip to Russia. They eventually became lovers, much to the dismay of her mother. Georgette traveled with him to Spain the end of December 1930 and returned in January 1932. In 1930 the Spanish government awarded him a modest author's grant. When he returned to Paris, he also went on to Russia to participate in the International Congress of Writers' Solidarity towards the Soviet Regime (not to be confused with the First Congress of Soviet Writers of 1934, which solidified the parameters for Socialist Realism). Back in París Vallejo married Georgette Philippart in 1934. His wife remained a controversial figure concerning the publication of Vallejo's works for many years after his death.

A regular cultural contributor to weeklies in Lima, Vallejo also sent sporadic articles to newspapers and magazines in other parts of Latin America, Spain, Italy, and France. His USSR trips also led to two books of reportage he was able to get published early in the 1930s. Vallejo also prepared several theatrical works never performed during his lifetime, among them his drama Colacho Hermanos, o Los Presidentes de America, which shares content with another work he completed during this period, the socialist-realist novel El Tungsteno. He even wrote a children's book, Paco Yunque. After becoming emotionally and intellectually involved in the Spanish Civil War, Vallejo had a final burst of poetic activity in the late 1930s, producing two books of poetry (both published posthumously) whose titles and proper organization remain a matter of debate: they were published as Poemas humanos and España, aparta de mí este cáliz. He died on April 15, 1938, of an unknown illness now thought to have been a form of malaria, an event fictionalized in Roberto Bolaño's novel Monsieur Pain. Originally buried in the proletarian Montrouge cemetery, Vallejo's remains are now in the Cimetière du Montparnasse in Paris.

Cesar Vallejo's Works:

Poetry

Los Heraldos Negros (1919)
Trilce (1922)
España, Aparta de Mí Este Cáliz (1937)
Poemas Humanos (1939)

Plays

Lock-Out (1930)
Entre las dos orillas corre el río (1930s)
olacho hermanos o Presidentes de América (1934)
La piedra cansada (1937)
El tungsteno (1931)
Towards the kingdom of the Sciris (1928)
Fabla Salvaje (1924)

Non-Fiction

Rusia en 1931, reflexiones al pie del Kremlin (1931)
Rusia ante el II Plan Quinquenal (1931)
This page is based on the copyrighted Wikipedia Cesar Vallejo; it is used under the Creative Commons Attribution-ShareAlike 3.0 Unported License. You may redistribute it, verbatim or modified, providing that you comply with the terms of the CC-BY-SA.
Tiempo, Tiempo
Mediodía estancado entre relentes.
Bomba aburrida del cuartel achica
tiempo tiempo tiempo tiempo.

Era Era.

Gallos cancionan escarbando en vano.
Boca del claro día que conjuga
era era era era.