Carol Snow
Biography of Carol Snow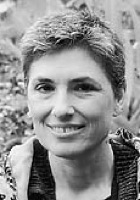 Carol Snow is an American poet.
In 2002, she was resident poet at University of California Berkeley.
She lives in San Francisco.

Awards

1989 National Poetry Series, for Artist and Model, selected by Robert Hass
Poetry Center Book Award,
Joseph Henry Jackson Award in Literature
Poetry Fund grant
National Endowment for the Arts Fellowship.

Carol Snow's Works:

"Respecting"
Artist and Model (1991)
Breath as: short poems (1994)
For (April 2000)
The seventy prepositions: poems (2004)
Placed: Karesansui Poems ( 2008)
This page is based on the copyrighted Wikipedia Carol Snow; it is used under the Creative Commons Attribution-ShareAlike 3.0 Unported License. You may redistribute it, verbatim or modified, providing that you comply with the terms of the CC-BY-SA.
News of
another massacre; and the clean bright morning.
Keeping walking. 'Contradiction' is human -- I know that.
And 'knowing'... A stirring from the place the whirlwind -- something like
fear -- arises, and watching my breath

to still that. Suddenly thinking somewhere in the breath -- along
the breath, is an understood place. Somewhere -- but somewhere
in passing -- where the matter is reconciled.