Carl Sandburg
Biography of Carl Sandburg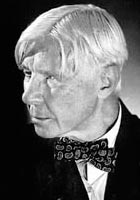 Carl Sandburg was an American writer and editor, best known for his poetry. He won three Pulitzer Prizes, two for his poetry and another for a biography of Abraham Lincoln. H. L. Mencken called Carl Sandburg "indubitably an American in every pulse-beat."

Biography

Sandburg was born in Galesburg, Illinois, to parents of Swedish ancestry. At the age of thirteen (During Eighth grade) he left school and began driving a milk wagon. From the age of about fourteen until he was seventeen or eighteen, he worked as a porter at the Union Hotel barbershop in Galesburg. After that he was on the milk route again for 18 months. He then became a bricklayer and a farm laborer on the wheat plains of Kansas. After an interval spent at Lombard College in Galesburg, he became a hotel servant in Denver, then a coal-heaver in Omaha. He began his writing career as a journalist for the Chicago Daily News. Later he wrote poetry, history, biographies, novels, children's literature, and film reviews. Sandburg also collected and edited books of ballads and folklore. He spent most of his life in the Midwest before moving to North Carolina.

Sandburg volunteered to go to the military and was stationed in Puerto Rico with the 6th Illinois Infantry during the Spanish–American War, disembarking at Guánica, Puerto Rico on July 25, 1898. Sandburg was never actually called to battle. He attended West Point for just two weeks, before failing a mathematics and grammar exam. Sandburg returned to Galesburg and entered Lombard College, but left without a degree in 1903.

He moved to Milwaukee, Wisconsin, and joined the Social Democratic Party, the name by which the Socialist Party of America was known in the state. Sandburg served as a secretary to Emil Seidel, socialist mayor of Milwaukee from 1910 to 1912.

Sandburg met Lilian Steichen at the Social Democratic Party office in 1907, and they married the next year. Lilian's brother was the photographer Edward Steichen. Sandburg with his wife, whom he called Paula, raised three daughters.

Sandburg moved to Harbert, Michigan, and then suburban Chicago, Illinois. They lived in Evanston, Illinois, before settling at 331 S. York Street in Elmhurst, Illinois, from 1919 to 1930. Sandburg wrote three children's books in Elmhurst, Rootabaga Stories, in 1922, followed by Rootabaga Pigeons (1923), and Potato Face (1930). Sandburg also wrote Abraham Lincoln: The Prairie Years, a two volume biography in 1926, The American Songbag (1927), and a book of poems Good Morning, America (1928) in Elmhurst. The family moved to Michigan in 1930. The Sandburg house at 331 W. York Street, Elmhurst was demolished and the site is now a parking lot. The War Years, for which he won the Pulitzer Prize in 1940. Sandburg's Complete Poems won him a second Pulitzer Prize in 1951.

He moved to a Flat Rock, North Carolina estate, Connemara, in 1945 and lived there until his death in 1967.

Sandburg supported the civil rights movement, and contributed to the NAACP.

Works

Carl Sandburg rented a room in this house where he lived for three years while he wrote the poem "Chicago". It's now a Chicago landmark. Much of Carl Sandburg's poetry, such as "Chicago", focused on Chicago, Illinois, where he spent time as a reporter for the Chicago Daily News and the Day Book. His most famous description of the city is as "Hog Butcher for the World/Tool Maker, Stacker of Wheat/Player with Railroads and the Nation's Freight Handler,/Stormy, Husky, Brawling, City of the Big Shoulders."

Sandburg is also remembered by generations of children for his Rootabaga Stories and Rootabaga Pigeons, a series of whimsical, sometimes melancholy stories he originally created for his own daughters. The Rootabaga Stories were born of Sandburg's desire for "American fairy tales" to match American childhood. He felt that the European stories involving royalty and knights were inappropriate, and so populated his stories with skyscrapers, trains, corn fairies and the "Five Marvelous Pretzels".

Sandburg earned Pulitzer Prizes for his collection The Complete Poems of Carl Sandburg, Corn Huskers, and for his biography of Abraham Lincoln (Abraham Lincoln: The War Years). He recorded excerpts from the biography and some of Lincoln's speeches for Caedmon Records in New York City in May 1957. He was awarded a Grammy Award in 1959 for Best Performance – Documentary Or Spoken Word (Other Than Comedy) for his recording of Aaron Copland's Lincoln Portrait with the New York Philharmonic.

Legacy

Carl Sandburg's boyhood home in Galesburg is now operated by the Illinois Historic Preservation Agency as the Carl Sandburg State Historic Site. The site contains the cottage Sandburg was born in, a modern visitor's center, and small garden with a large stone called Remembrance Rock, under which he and his wife Lilian's ashes are buried. Sandburg's home of 22 years in Flat Rock, Henderson County, North Carolina, is preserved by the National Park Service as the Carl Sandburg Home National Historic Site. Carl Sandburg College is located in Sandburg's birthplace of Galesburg, Illinois.

Carl Sandburg Village was a Chicago urban renewal project of the 1960s located in the Near North Side, Chicago. Financed by the city, it is located between Clark and LaSalle St. between Division Street and North Ave. Solomon & Cordwell, architects. In 1979, Carl Sandburg Village was converted to condominium ownership.

Elmhurst, Illinois, renamed the former Elmhurst Junior High School as 'Carl Sandburg Middle School,' in his honor in 1960. Sandburg spoke at the dedication ceremony. He resided at 331 S. York Street in Elmhurst from 1919 to 1930. The house was demolished and the site is a parking lot. In 1954, Carl Sandburg High School was dedicated in Orland Park, Illinois. Mr. Sandburg was in attendance, and stretched what was supposed to be a one hour event into several hours, regaling students with songs and stories. Years later, he returned to the school with no identification and, appearing to be a hobo, was thrown out by the principal. When he later returned with I.D., the embarrassed principal canceled the rest of the school day and held an assembly to honor the visit. In 1959, Carl Sandburg Junior High School was opened in Golden Valley, Minnesota. Carl Sandburg attended the dedication of the school. In 1988 the name was changed to Sandburg Middle School servicing grades 6, 7, and 8. Originally built with a capacity for 1,800 students the school now has 1,100 students enrolled. Sandburg Middle school was one of the first schools in the state of Minnesota to offer accelerated learning programs for gifted students. In December 1961, Carl Sandburg Elementary School was dedicated in San Bruno, California. Again, Sandburg came for the ceremonies and was clearly impressed with the faces of the young children, who gathered around him. The school was closed in the 1980s, due to falling enrollments in the San Bruno Park School District.

In Neshaminy School District of lower Bucks County resides the secondary institution Carl Sandburg Middle School. Located in the lobby is a finished split tree trunk with the quote engraved lengthwise horizontally: "Man is born with rainbows in his heart and you'll never read him unless you consider rainbows". Another secondary school by the same name is located south of Alexandria, Virginia, and is part of the Fairfax County Public Schools School District. Sandburg Halls is a student residence hall at the University of Wisconsin–Milwaukee. The building consists of 4 high rise towers with a total housing capacity of 2,700 students. It has an exterior plaque on Sandburg's roles as an organizer for the Social Democratic Party and as personal secretary to Emil Seidel, Milwaukee's first Socialist mayor. There are several other schools named after Sandburg in Illinois, including those in Wheaton, Orland Park, Springfield, Mundelein, and Joliet.

Carl Sandburg's Works:

In Reckless Ecstasy (1904)
Abe Lincoln Grows Up (N/A)
Incidentals (1904)
Plaint of a Rose (1908)
Joseffy (1910)
You and Your Job (1910)
Chicago Poems (1916)
Cornhuskers (1918)
Chicago Race Riots (1919)
Clarence Darrow of Chicago (1919)
Smoke and Steel (1920)
Rootabaga Stories (1922)
Slabs of the Sunburnt West (1922)
Rootabaga Pigeons (1923)
Selected Poems (1926)
Abraham Lincoln: The Prairie Years (1926)
The American Songbag (1927)
Songs of America (1927)
Abe Lincoln Grows Up (1928)
Good Morning, America (1928)
Steichen the Photographer (1929)
Early Moon (1930)
Potato Face (1930)
Mary Lincoln: Wife and Widow (1932)
The People, Yes (1936)
Abraham Lincoln: The War Years (1939)
Storm over the Land (1942)
Road to Victory (1942)
Home Front Memo (1943)
Remembrance Rock (1948)
Lincoln Collector: the story of the Oliver R. Barrett Lincoln collection (1949)
The New American Songbag (1950)
Complete Poems (1950)
The wedding procession of the rag doll and the broom handle and who was in it (1950)
Always the Young Strangers (1953)
Selected poems of Carl Sandburg (1954)
The Family of Man (1955)
Prairie-town boy (1955)
Sandburg Range (1957)
Harvest Poems, 1910–1960 (1960)
Wind Song (1960)
Honey and Salt (1963)
The Letters of Carl Sandburg (1968)
Breathing Tokens (poetry by Sandburg, edited by Margaret Sandburg) (1978)
Ever the Winds of Chance (1983)
Carl Sandburg at the movies : a poet in the silent era, 1920–1927 (1985)
Billy Sunday and other poems (1993)
Poems for children nowhere near old enough to vote (1999)
Abraham Lincoln : the prairie years and the war years (2007)
This page is based on the copyrighted Wikipedia Carl Sandburg; it is used under the Creative Commons Attribution-ShareAlike 3.0 Unported License. You may redistribute it, verbatim or modified, providing that you comply with the terms of the CC-BY-SA.
The Sea Hold
THE SEA is large.
The sea hold on a leg of land in the Chesapeake hugs an early sunset and a last morning star over the oyster beds and the late clam boats of lonely men.
Five white houses on a half-mile strip of land … five white dice rolled from a tube.

Not so long ago … the sea was large…
And to-day the sea has lost nothing … it keeps all.

I am a loon about the sea.
I make so many sea songs, I cry so many sea cries, I forget so many sea songs and sea cries.