Cale Young Rice
Biography of Cale Young Rice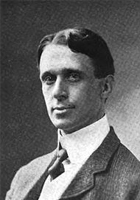 Cale Young Rice (December 11, 1872 – January 24, 1943) was an American poet and dramatist.

He was born in Dixon, Kentucky to Laban Marchbanks Rice, a Confederate veteran and tobacco merchant, and his wife Martha Lacy. He was a younger brother of Laban Lacy Rice, a noted educator. Cale Rice grew up in Evansville, Indiana and Louisville, Kentucky. He was educated at Cumberland University and at Harvard (A.B., 1895; A.M., 1896).

He was married to the popular author Alice Hegan Rice; they worked together on several books. The marriage was childless, and Cale committed suicide at his home in Louisville a year after her death due to his sorrow at losing her.

Cale Rice's poems were collected and published in a single volume by his brother, Laban Lacy Rice.

His birthplace in Dixon is designated by Kentucky State Historical Marker 1508.
When The Wind Is Low
When the wind is low, and the sea is soft,
And the far heat-lightning plays
On the rim of the west where dark clouds nest
On a darker bank of haze;
When I lean o'er the rail with you that I love
And gaze to my heart's content;
I know that the heavens are there above --
But you are my firmament.