Brian Johnston
Brian Johnston
[An Apprentice Poet, Mentor, & Commenter] (Jan.20,1943 / Shattuck, OK)
Biography of Brian Johnston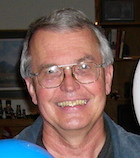 I started writing poetry my Senior year in High School and the Muse still strikes on occasion. I also wrote some short stories in college but poetry is my ongoing interest. I enjoy tennis, swimming and backpacking and have become a YMCA member in recent years. My short term memory has taken a hit but I'm physically stronger than I have ever been! It's nice to be able to see improvement in at least one area of my life.
I was in the US Peace Corps twice. The first time was from 1964 to 1966 in Tanzania, East Africa where I supervised the installation of small bridges and culverts on feeder roads in an attempt to encourage local farmers to produce more. I also did some survey work and was lucky enough to spend nearly a month surveying future roads for tourists on the floor of Ngorongoro Crater, an extinct volcano whose rim exceeds 10,000 ft in places and is over ten miles in diameter. The crater floor is a natural game park nearly 2,000 ft. below the rim. The poem 'Venice' was written on my trip home from East Africa.
A 2nd Peace Corps stint was in Malaysia where I taught a two year Physics syllabus to very gifted students in Kuantan, on the east coast of Malaysia from 1970 to 1972. I don't think I ever worked so hard in my life as I did teaching those kids. It was a very rewarding experience.
I wrote a number of poems while I was at the University of Oklahoma and wound up getting a Master's in Physics before I left for Malaysia in 1970. The poems 'Venice' and 'California Montage' both won 'Honorable Mentions' in state poetry contests while I was at OU.
My Masters in Physics specialized in Superconductivity. I was again very fortunate in working on devices used by USGS to do a study of how the earth's magnetic field has changed through time. This study revealed that the earth's magnetic field has reversed itself many times through history and now the magnetic field found in the rock enclosing fossils can actually be used to help determine a fossils age. I also the wrote the computer program that USGS used to analyze their core sample data.
When money dried up for for scientific research under Nixon, my next job was working as one of the first video game designers using microprocessor logic. My first game, a copy of a game done completely in hardware called 'Bi-Plane' was perhaps the first commercially sold video game using a microcomputer chip, the Intel 8080, as it's heart and an Altair Home Computer Kit that a friend and I built as a development station. I wound up spending nearly 12 years designing games for companies like Extensys, Ramtek, Atari and Warner Brothers.
My last programming job was designing a micro-computer driven KSU for TIE Communications which was my most successful programming job. The final phone system sold over a million units and its program contained over 40,000 computer instructions. This assembly language program took me almost 4 years to write before the final version was completed.
The remainder of my career has been in both farming and in real estate management. My father worked largely in farming related businesses and when he became ill I got heavily involved with our farms in South Dakota and Oklahoma, which gave birth to the poems 'A Walk Near Blunt, ' 'Driving Alone Through the Sand Hills of Nebraska, ' and 'Like a Farmer.'
I am retired now and live in Silicon Valley which I have called home since moving here in 1973.

Brian Johnston's Works:

To my friends and visitors,
I have had to block the rating system because some people apparently do not think much of my poetry and apparently enjoy giving low ratings to poems that others like a lot. Please give my poems a rating with your comments if you find a poem that you like particularly. I will allow all ratings with comments that justify the rating to stand with my poem if I believe the rating and comment are intended to help me improve as a poet and not just meant to be mean spirited or misleading. I welcome constructive criticism from any serious commentator. Non-constructive comments in my judgement will be removed as quickly as they are noticed.
Love By The Numbers
We do not always wake up
With smiles on our face,
And some mornings are harder,
Love feels out of place.

Touching her's really simple,
But feelings aren't there,
Your nose suddenly itches
When nuzzling her hair.