Biography of Bechara El Khoury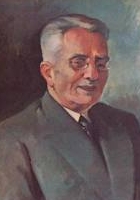 Bechara El Khoury was born in Beyrut
called (The prince of love and passion)
he established newspaper called Al (Parik(البرق))
he died in 1968 also in Beyrut.
This page is based on the copyrighted Wikipedia Bechara El Khoury; it is used under the Creative Commons Attribution-ShareAlike 3.0 Unported License. You may redistribute it, verbatim or modified, providing that you comply with the terms of the CC-BY-SA.
I die after you…
Shun away from me, my feelings die early.
Live your enjoyable life as long as you can abandon me.
What do you lose if you stay as a dear lover?
Didst your eyes see not your interesting figure?
There was remnant of passion on my soul of thee lover.
However, its firebrand extinguished after your departure.
You make from my eyelids pillow to rest.
And from my eyes the bed however you want.
Didst you build at my expense your passion pillar?