Anthony Ominiabohs
Anthony Ominiabohs
(July 25 1987 / Nigeria)
Biography of Anthony Ominiabohs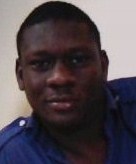 I was born into a family of eight; five girls and three boys, I being the fifth child and first son to my parents. Presently, am a graduate of Computer science from the University of Benin, Edo state, Nigeria, Africa. I love reading and also writing. I also love keeping dogs, cos i have a large dog pound/kernel. Am single and still very ready to mingle.
Downcast
Through shards of glass
My pain i see
Searing like hot coal on ice
Drowning in a cloudy sea
Like a sad sad storm
Every hour now a day
Every thought a pin prick
Screaming at me
With the force of a charging bull.
I am left to stare...
Just to stare.