Ahmad reza Ahmadi
Biography of Ahmad reza Ahmadi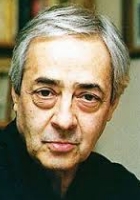 Ahmadreza Ahmadi (Persian: احمدرضا احمدی) is an Iranian poet and screenwriter.The history of Persian modern poetry calls him as the founder of New Wave Poetry in Iran.
Ahmadreza Ahmadi was born in 1940 in Kerman, Iran. He moved to Tehran in 1948. In Tehran he attended the Adab school and in 1954 entrered Dar ol-Fonoun. Two inidviduals who according to him have been instrumental to his love for literature are his maternal nephew, the writer Abdolrahim Ahmadi, and his teacher at Dar ul-Fonoun, Mr Mohammad Shirvāni.
Ahmadreza Ahmadi's first book of poetry, Tarh (Sketch), was published in 1962. His poetry has its roots in French Surrealism and the American Imagists specially in poets like Saint John Perse, Paul Eluard, Louis Aragon and Ezra Pound.
Again From The Sky
The sky is blue again,
It is covered by black lines
Tomorrow
I must bestow you to scattered fragmented words.
A brown line on the plane tree
Belongs to the sun,
It is a full brown line
Resembling your tresses,
Which makes human survival on earth
More exuberant.