Aftab Alam

[Khursheed] (15 th April 1967 / PRASTOLI, DORANDA, RANCHI, JHARKHAND, INDIA)
Biography of Aftab Alam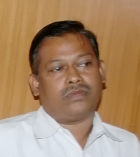 I thank, all those who read and comment
Through FB or PH, they pause a moment
Precious time steal and spent on charity
Filling life hole of hollowness with sanity
Gratitude to all poets at open rendezvous
The POEM HUNTER
Aftab Alam 'Khursheed'

AFTAB ALAM is an Indian poet born in Ranchi Capital of Jharkhand on 15 April 1967(Saturday) in the house of Md. Sanaullah (Father) and: Qaisra Khatoon(Mother) (Aftab Born Not in Hospital but at home, The place is now a Kitchen) at the Suburb of Ranchi name of the village Prastoli under the police station Doranda of Jharkhand now erstwhile Bihar, , The eldest of Five, Writing is a passion for him and this is because of poverty to release the grief of..Known language is Urdu, Hindi, English, Bengali, sadari, Magahi etc. initially started writing in Urdu/Hindi In 1985 joined joined Indian Air Force, married in the year1989 with Aziz Fatma her nickname was Bahar(spring) she used to becalled by this name She was brave and beautiful, blessed with three children 1.Shaista Aftab 2. Pardaz Aftab and 3) Sheikh Aghaz Aftab. She died in a road accident at Ranchi on 29th Oct 2007 buried at the cemetery of Prastoli on Monday at night on the same day after the night prayer,
Left IAF in the tear 2005. involved with Social Work and Politics, Contested 2009 Parliamentary Election from Ranchi Constituency and lost, Selected through SSC in the year 2005 and joined Defence Audit Department in the year 2009.
Pen name is KHURSHEED for English and Dravesh for Hindi/Urdu,
Education: 10th class from ST.Paul's High School Ranchi,10+2 from Doranda College Ranchi, Graduated from Guru Nanak Dev University, Amritsar, Punjab and Master in English from Jai Narayan Vyas University Jodhpur, Rajasthan, Bachelor of Engineer(AICTE, AF) and Post Graduate Diploma in Production Management (IGNOU)
Hobby: To read the books of any kind but Quran is above all.Keats Byron, William Wordsworth, Maxim Gorky, Prem chand, Nirala, Iqbal, Dushyant, Dumil, Charles Dicken, Leo Tolstoy… Keats kills him.WW makes him to cool, Charles Dicken, prem chand and Maxim Gorky Shown the path to write and understand what is the world.
A lover of Nature and its creatures, respect women but hate those who doesn't feed the baby with breast.
He says This earth is worth living, we must learn to cooperate, Cage keeper will not bring freedom.desire is for the people to take lungful breathe without fear.
To err is humane, if mistakes in anywhere, my humble request kindly bring in my notice to correct with thanks.He loves all and through people he is loved.

'HOW LONG PEACE WILL KILL THE PEACE LOVING PEOPLE'

Address: S/o Md Sanaullah (Near Mosque) , Prastoli, PS/PO Doranda, RANCHI Jharkhand(India) PIN 834002mobile no. 09634511277 email aftab2aghaz@gmail.com

Aftab Alam's Works:

Books has not been published yet but in NEWS papers, magazines, it is being published regularly.

Comment on poem is welcomed let it be most bitter, truth must come out...TRUTH KEEPS THE BITTERNESS, never hesitates to comment let the words must come here on poem hunter
Thanks to all reader and my pen family I am indebted being at the site and thanks to Poem hunter As I been kept among the group of INDIA's Popular poet from sep 2013 Thanks to all
This page is based on the copyrighted Wikipedia Aftab Alam; it is used under the Creative Commons Attribution-ShareAlike 3.0 Unported License. You may redistribute it, verbatim or modified, providing that you comply with the terms of the CC-BY-SA.
Demoegypt
Neil witnessed quietly,
Thirty years of tears,
Rolled on the cheeks of slimming egyptian,
Mobarak's silos were balooned fearlessly,

....Tahreer square gathered those tears.
And meditated eighteen days......
Neil overflowed and washed,
The dirty palace of cairo......